Play kitchens offer hours of play options for kids and their friends. One of the best sets you can get for your kids, the imaginative play options are endless and they use them for years.
We have picked out favorites in a variety of price points to fit any budget. Each set has so much to explore, kids will feel like they're cooking just like Mom and Dad!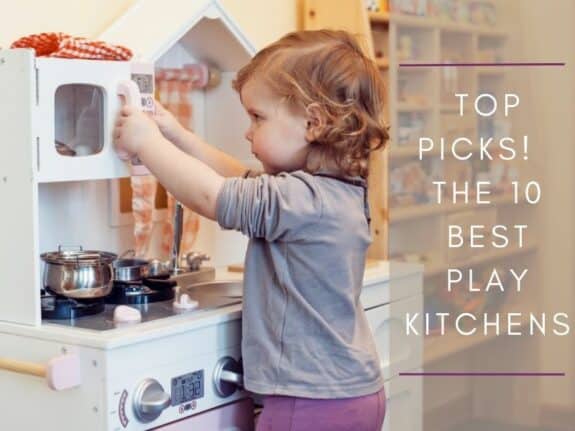 This post includes affiliate links.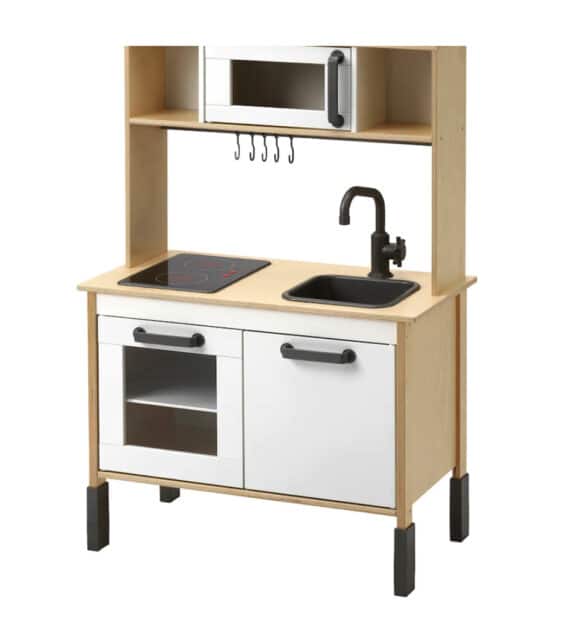 Ikea's DUKTIG play kitchen is the get-it-done set that won't break the bank. The cooktop lights can be switched on/off and give a realistic glow but do not get warm. It includes a microwave, sink, stove, and oven. This set is famous for being customized by parents. You can add a board to act as a backsplash, paint it to match your child's playroom, or add decals. Plus, while you are at Ikea stock up on pots, pans and play food. Their kids department is a treasure trove for items to fill this set!
It also grows with your child. The height of the legs can be adjusted to 3 positions.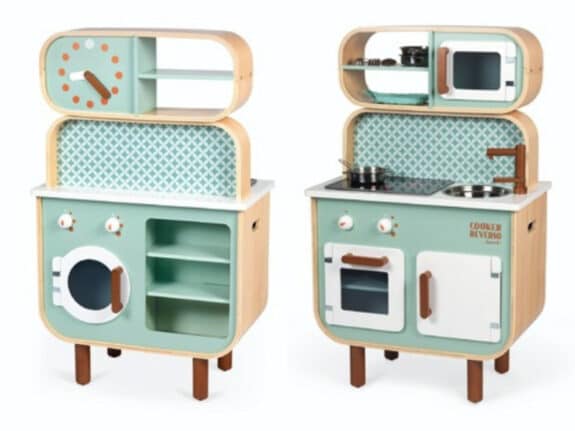 How sweet is this adorable retro play kitchen? Offering two-sided play, it includes an oven, a microwave, LED stovetop, sink, storage, and shelves on the kitchen side. The reverse cleaning side includes a washing machine/dryer, clock, and shelf.
It includes 8 accessories comprising of 4 metal utensils, a metal frying pan, a metal colander, and an oven mitt.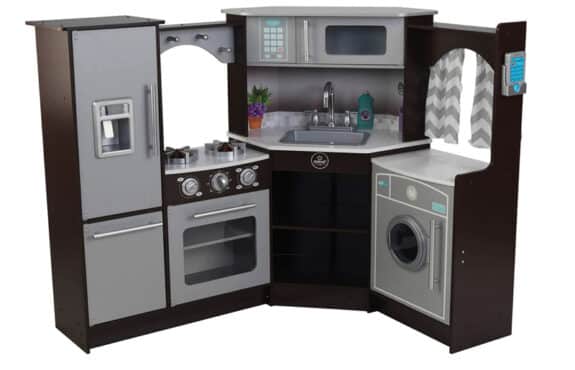 So much play value! KidKraft's Ultimate Corner Play Kitchen Set with Lights and Sounds is loaded with fun, interactive features to keep your little chefs engaged. The stovetop burners and ice maker both feature lights and sounds, oven knobs turn and click, and appliance doors really open and close. Functional shelving and cabinets with doors that open and close provide plenty of convenient storage for any KidKraft kitchen accessories.
Even though this kitchen is big, the fact that it fits into a corner makes it easier to fit into a room.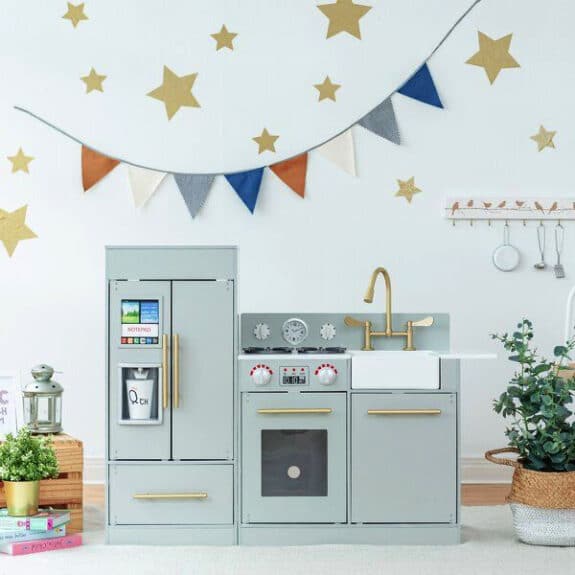 This classic play kitchen is designed with metallic accents, allowing it to fit in perfectly into any home, classroom, preschool, or daycare playroom. The functional and interactive design features an openable oven, refrigerator, and microwave doors, a chalkboard, and drink dispenser built into the refrigerator, 3 turning oven knobs, 2 oven burners, a storage cupboard, a sink, and an under-sink cabinet to enhance your little one's playtime. With the included toy cordless phone, this toddler kitchen encourages role play and lights up your little chef's imagination and creativity.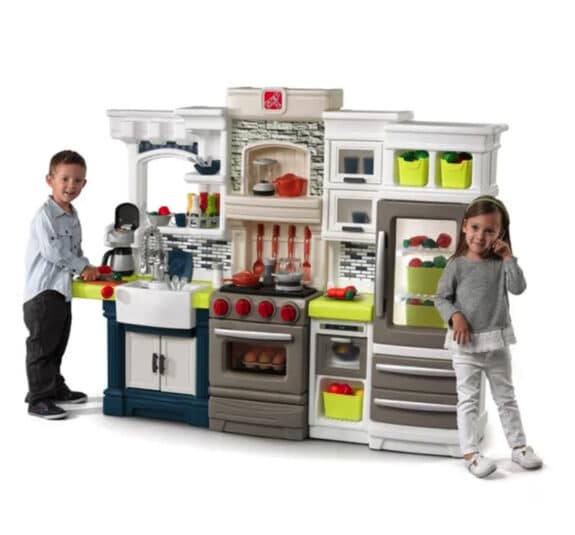 Step2 has increased the design of their modern and upscale Elegant Edge Kitchen™ playset. Packed with so many great features, toddlers can tend to their own kitchen with this spacious playset prepping play food on the large faux granite countertop, washing dishes in the farmhouse-style apron sink, and more.
This elegant play kitchen was designed with luxury in mind, from the real working lights in the oven and refrigerator, to the premium "slate-style" appliance finishes and modern subway tile backsplash decals. This kitchen playset is perfect for families who have more than one child that need to share the space. There are more than enough elements to keep everyone cooking!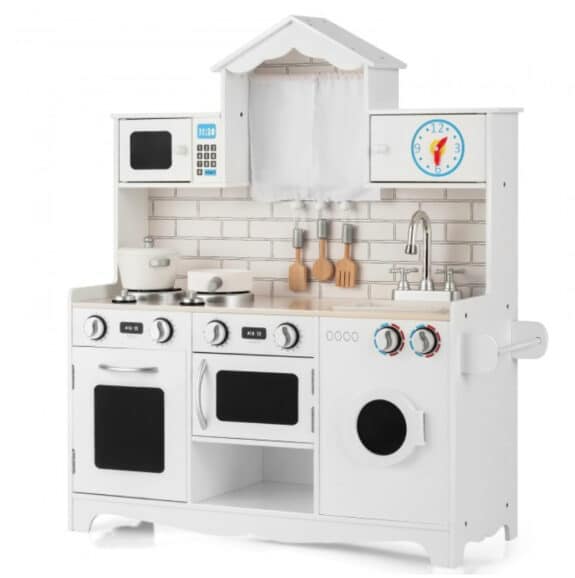 This wooden kitchen includes all of the elements for kids to learn about the entire cooking process. It includes a variety of practical and realistically designed cooking accessories, such as a washing machine, microwave, oven, sink, gas stoves, and clock.
It's worth mentioning that this kid's kitchen features an open shelf, a towel rack, and a lot of cabinets, which are enough to store kitchen essentials.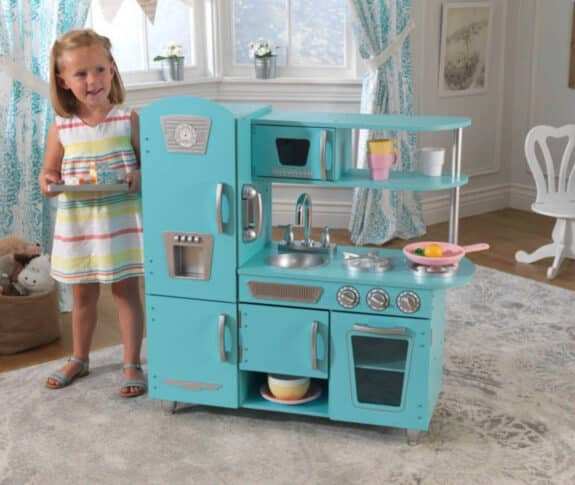 This vintage kitchen has been a staple in KidKraft's line for many years. it was designed with doors that open and close, knobs that click and turn and plenty of convenient storage space. The removable sink is easy to clean and the durable design can stand up to the most enthusiastic imaginations.
It does take some time to put together, but that the play value was worth it. This vintage play kitchen also comes in a variety of colours to suit all playroom designs!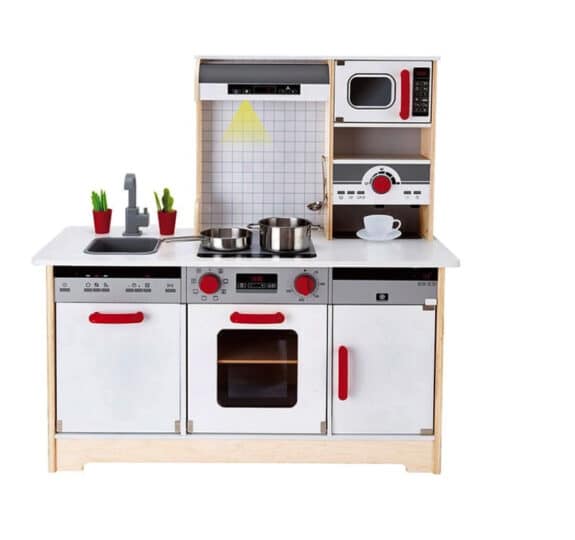 We love this multi-functional, All-in-1-Kitchen and its array of appliances and features, including a controllable range hood lamp, authentic microwave with a "ding" and cappuccino maker! Kid car prepare a meal, dessert with a warm beverage and the load the dishwasher to clean them after. Plus the is still room for them to store their accessories and play food.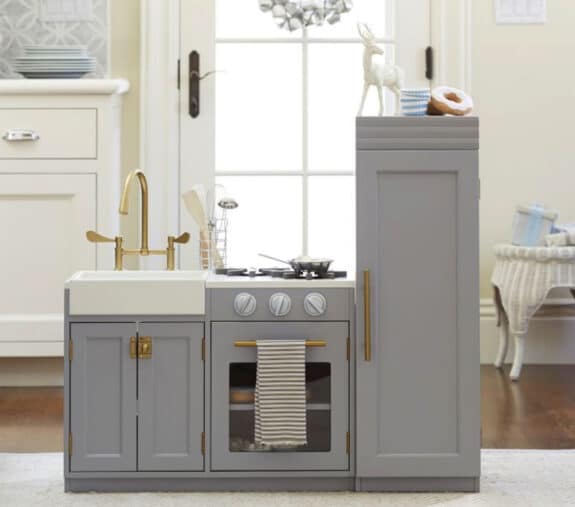 The most expensive pick, this Pottern Barn kitchen is as close to the real thing as it gets! Pottery Barn has combined all the well-loved elements from our individual Chelsea Kitchen pieces into one multifunction play centre. A little cook's dream come true, it's an all-in-one stove, oven and refrigerator with tons of interactive opportunities – knobs turn, doors open and the sink is watertight for real cleanup.
The hardware is finished in light brass colour and it features large farmhouse sink with extra storage below sink
Finish is available in a choice of Simply White, Grey, Blush Pink, or Black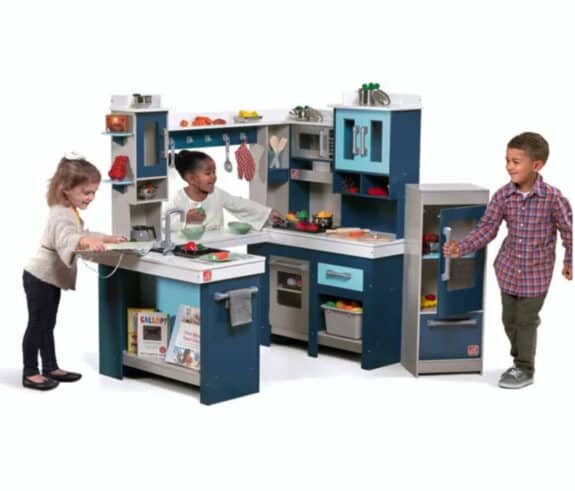 Step2's Grand walk-in kitchen has always been the best bang for your buck kitchen on the market. Enough space for your child and all of their friends to play, this kitchen is packed with play value.
This beautiful, premium kid's pretend play kitchen features a large walk-in U-shaped kitchen with look-through refrigerator and oversized oven to match the modern design of today's kitchens. Designed with a large oven and fridge, sink with goose-neck style faucet, and "Glass" stove burner adds a realistic and modern touch to this deluxe kitchen. The extended breakfast bar provides added space for late-morning risers to enjoy a warm cup of coffee. Step2 includes a 15-piece kitchen accessory set to get the party started.