Mega Bloks has a lot in store for little builders in 2014!  Famous for their bright, innovative construction sets, the company continues to expand their popular lines, while adding new ones.
This week we toured their showroom at Toy Fair too see what will be new this year. Here is a look at some of the highlights.
Following up on the success of Billy Beats, MEGA has debuted Bobby Barn Musical Farm. This 360 play farm set includes 3 farm animals, farmer block buddies and rolling tractor. Bobby plays 12 farm songs and animal sounds.  Kids can expand the play with the swivel out arm, swinging doors and 20 blocks! Bobby has a handy carrying handle and storage in silo. Available this Fall for $34.99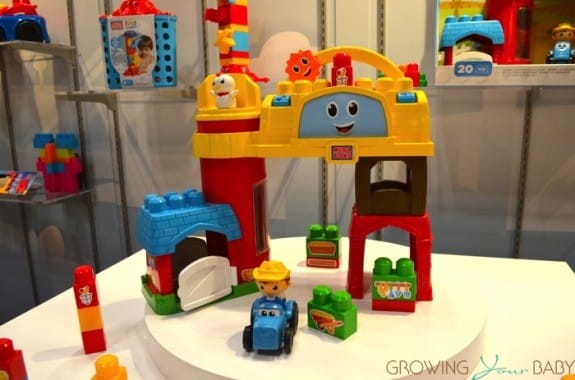 This Spring kids can sail the ocean blue with Pirate Ship Pat($19.99)! This colorful pirate ship has a cheerful smiling face and a friendly Block Buddy captain. A quick-pull lever raises the Block Buddy up. The boat will float, and comes with 10 First Builders "treasure" blocks.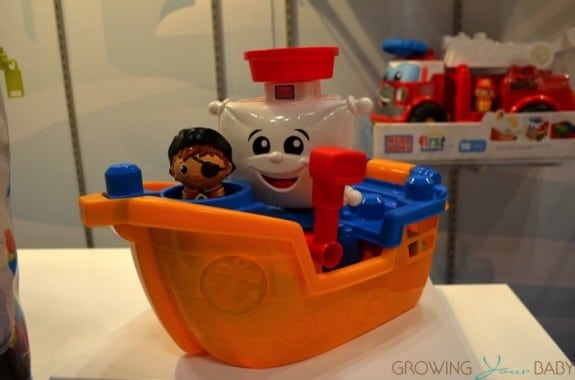 This Fall kids can build and zoom with Fast Tracks Rescue Team($29.99) and Raceway($19.99). The set includes mix 'n match build able vehicles, racing tracks and building blocks.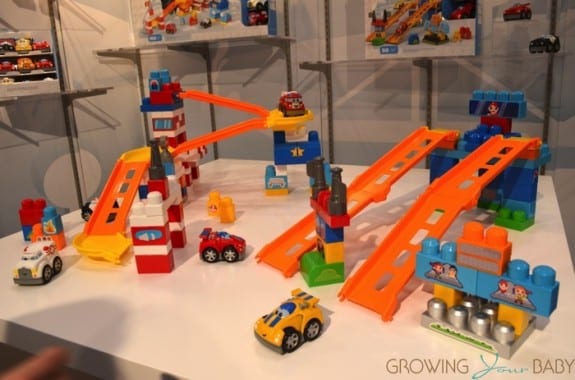 Perfect for gifting, the Learning Cube Asst.($7.99) includes 13 First Builders blocks that combine into a fire truck, police car, school bus, ice cream truck and train, with friendly, smiling faces. Available this Spring.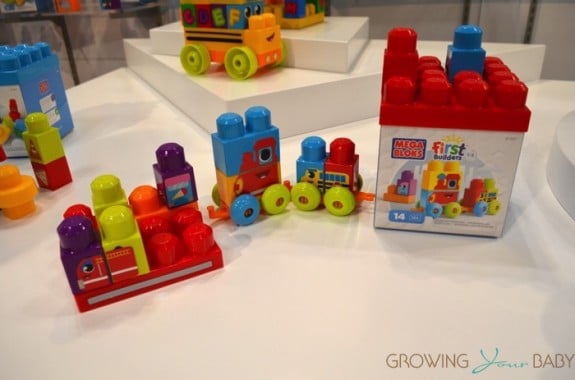 The 1-2-3 Learning Train($19.99) is a great teaching tool for young children to learn how to count – by volume, numbers and shapes for the first time. The set includes 44 First Builders blocks, three wheel bases, three building plates and sticker sheet. Available this Spring.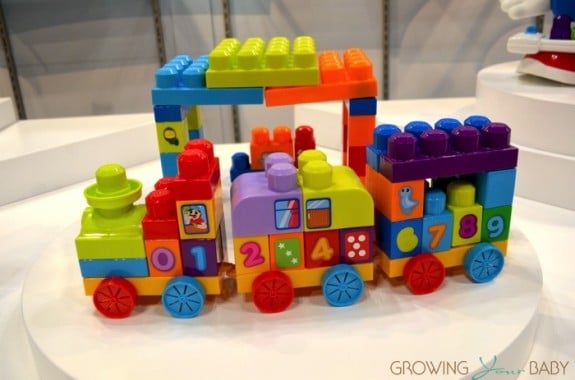 Mega makes some fun John Deere trucks, block sets and farm equipment. This year they will introduce a dump truck and garden cart.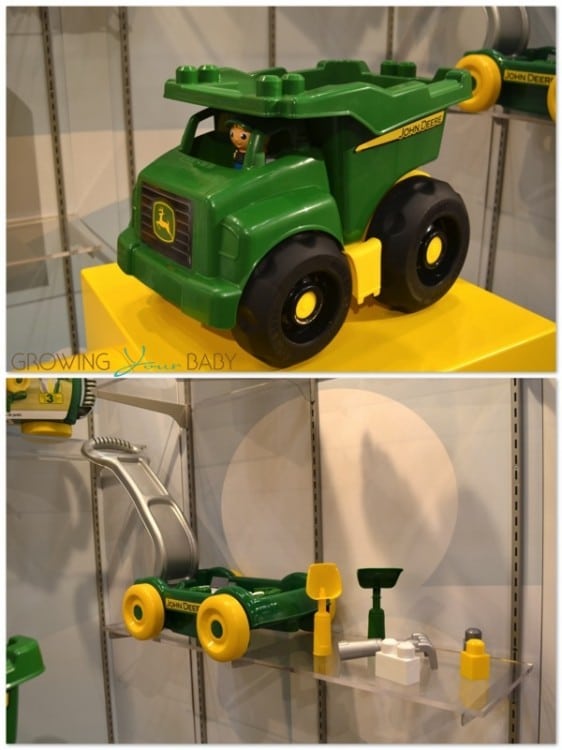 The Lil' Princess Pretty Pony Stable comes with 30 Blocks (includes sparkling and special parts), 1 Uniquely themed Princess, 1 Unicorn Pony, 1 baby pony, and 3 base plates for added building experience.  A cute feature is that the princess' crown pops up when she gets on the unicorn.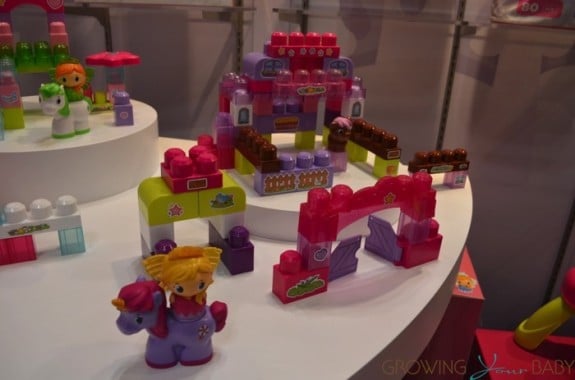 Coinciding with the release of the new Thomas & Friends Tale of the Brave Movie MEGA is debuting three new Thomas & Friends sets and a building table that is specially created for Junior Builders blocks.
This Fall the Barbie collection will be expanded to include a mansion, yacht, pool, treehouse, and underwater castle.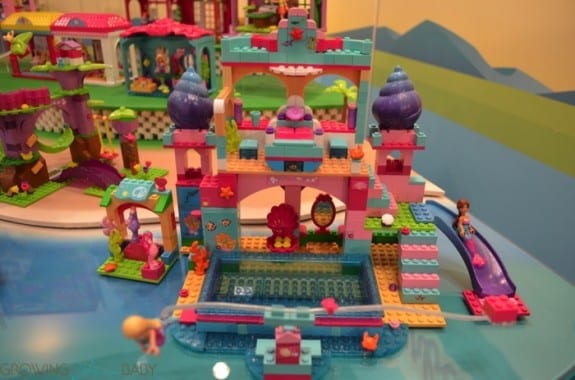 Mega is also adding fairies and mermaids to the line.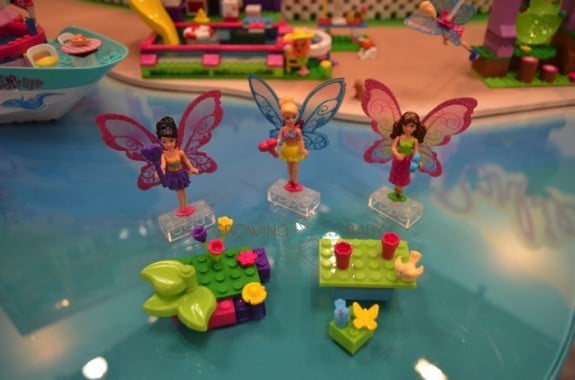 Hello Kitty goes to the carnival this year with a cute bumper cars set, spinning ferris wheel and merry-go-round for tons of play.  The line will also include a water park set, sail boat and kitty condos.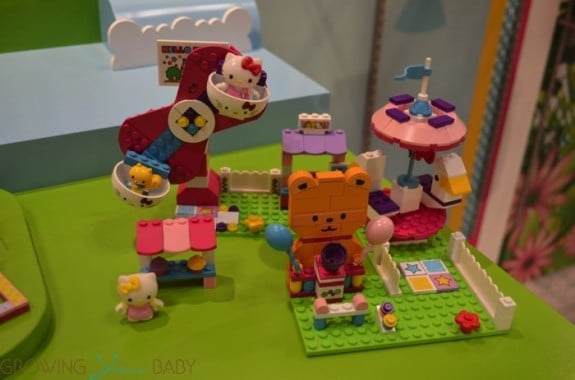 For boys, Mega is expanding their partnership with Jeep and John Deere to include off roading vehicles and farm equipment.  Available Fall 2014
To commemorate the new season of Power Rangers Super MegaForce they have created new minifigs, Megazords, and the iconic Sky Ship Zord.
Fans of Sponge Bob will love the new collection!  Available this Fall it includes sets that depict popular scenes and episodes.  Along with the Krusty Krab, Mega has created the Invisible Boatmobile and a fun Rock Band themed set!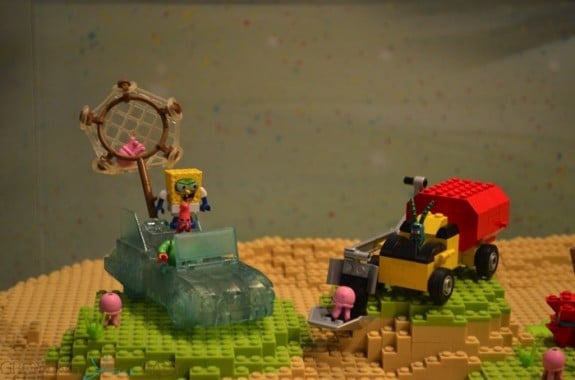 Plus, Sponge Bob the minifig is not duplicated through out the line.  A different figure was created for each set, which mean collectors have the chance of getting almost 20 different versions of the popular sponge.
Just in time for the holidays Mega will introduce Kapow a group of rocking, socking robots.  Kid powered, these robust characters go to battle with each other.   These fully buildable robot warriors come complete with dedicated armour, helmet fun fluorescent colors.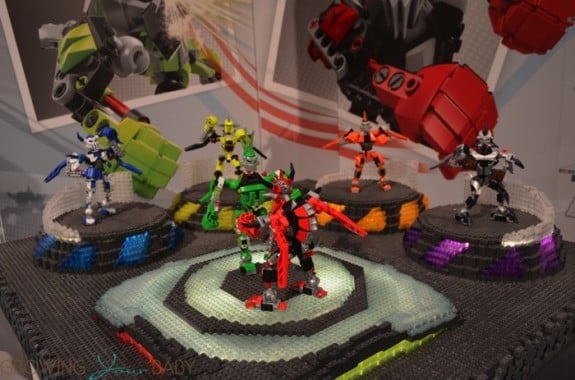 ---
[ad]