Like most of the world – my kids are obsessed with Minecraft.  As a way to get them off the iPad, and playing together we bought them a couple of Minecraft LEGO sets.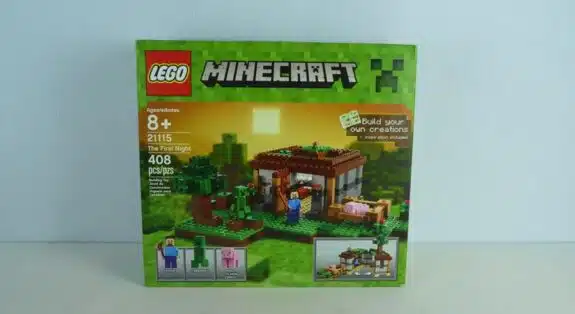 Lego has been making Minecraft Sets for a couple of years now, but the newer designs appeal more to my kids because they are created more they way they play the game.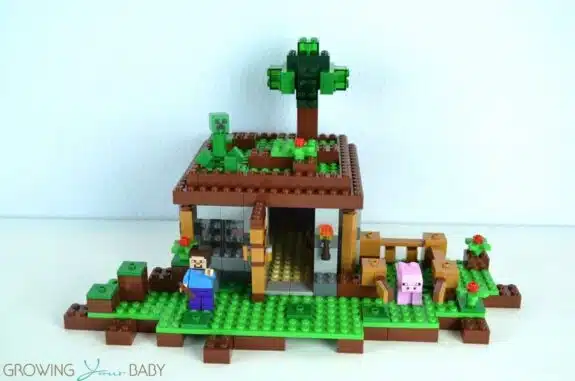 For The Lego Minecraft First Night set builders must construct a shelter and enclosure to protect their livestock.  And by builders,  I mean my husband and I.  We are the Lego builders here so I always make a video of us putting it together(below) so they can watch it over and over again, which they love.
Builders must craft a bed, an oven and a chest before nightfall to avoid the hissing Creeper. This set includes a Steve minifigure, a Creeper, pig and a detailed book that shows you how to create the set you see on the box, and a couple variations of it.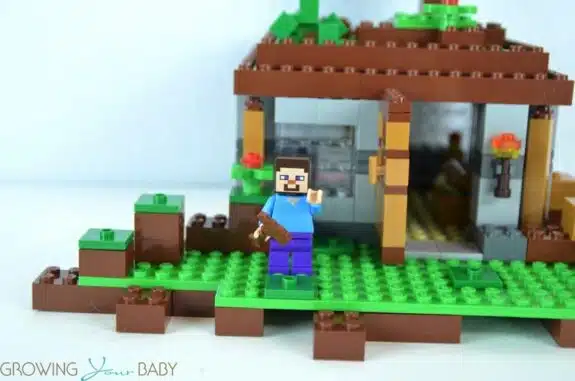 The First Night set comes with a lot of classic blocks so it's easy for kids to put together.   There are some small pieces, but for the most part the set is created from the chunkier blocks, which make the project go together faster.
We love that each section was also designed in a modular fashion so kids can change things up to make the house their own – much like online version.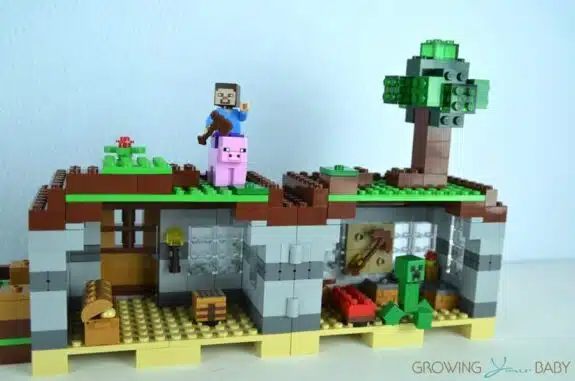 Once together the set can be opened so that the rooms are more accessible, or closed so that characters can enter through the front door.  The panels on the roof can be easily removed and attached to the sides of the property to create a bigger space for kids to play in.
My boys are in love with this set.  At 408 pieces, it falls in the mid range for the collection, but it would make a great stand alone set for a Minecraft fan.