One of the questions that I get asked often by friends and family who know that we love to vacation is what is better for a family – a cruise or resort vacation?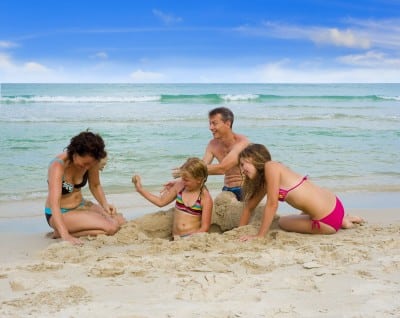 While both vacations are very different, each one offers a lot of great opportunities for vacationing families.
For us, a cruise is a good way to see a lot of places, where a resort vacation allows you to experience everything an island or destination has to offer.
For years we have used cruising as a way to figure out where we would like to go back and stay. Cruising is a nice way to experience everything, without the week-long commitment.
Vacationing at a resort is nice because you don't have to go anywhere. There is no schedule, no expectations and no risk that a trip to the other side of this island could leave you stranded if you're not back in time.
You'll often hear cruisers say that they need a vacation from their vacation and it's true. So much to do and see, you don't want to stop even for a second.
Dining
A staple at most all-inclusive resorts is the buffet. And while they aren't always gourmet cuisine, many resorts make their a-la-carte restaurants available to guests for at least 2 meals a day.
Food on a cruise is not only tasty but plentiful. At breakfast, lunch & dinner, diners have every choice available to them and when there isn't a restaurant open – there's always room service. My husband has been known to wake up in the middle of the night to order room service – just because he can.
Value
For families, an all-inclusive vacation can often cost less because kids of a certain age stay free or at a reduced rate , whereas many cruise lines don't offer discounts for little cruisers.
On most cruises, your accommodations, meals, snacks, and onboard activities/entertainment are all included. Extras like shore excursions, beverages (alcoholic and non-alcoholic) gratuities and transportation to and from the airport are usually not part of the deal and can add up quickly.
An all-inclusive vacation normally includes meals, transportation, beverages (alcoholic and non-alcoholic), non-motorized water sports, and gratuities. Excursions, spa treatments, and the kid's club are normally extra.
Both vacations offer value but in different ways. We don't drink, so it isn't a big deal to us that alcohol isn't included. Parents who like to enjoy wine with dinner or daquari's by the pool will see the bill add up as staff adds a 15% gratuity to all bills.
Accommodations
When booking a cruise you will quickly realize that rooms at almost any resort will be bigger. A couple will find an inside or ocean view acceptable, but a family will be cramped in both spaces. When we cruise with our boys, we always opt for a balcony because it gives us an extra 20 or 30 sq. ft of space for them to play in. Yes, I just suggested that a space that is the size of a bathroom is a bonus and a selling feature. When you figure that the average size of a cabin comes in at a meager 170 sq. ft. – a balcony is a gift. With that being said, sitting out on your balcony at night after the kids are in bed is worth the lack of space.
At a resort, rooms average 400 sq. ft with sitting areas, which is much more comfortable for a family of 4 – especially if you need a crib.
This can be the deciding point for a family on a budget as it can get expensive if you need to move into a suite to get more space and amenities like a bathtub.
Activities
From themed cruises to kid's clubs, and waterslides to splash pads, some cruise lines have really stepped up their family-friendly activities over the years. This is a big selling point for parents who want to make sure that their kids have lots to do while away. All of these amenities are not available on all ships but some of the new ships are stacked with options right down to skating rinks.
The majority of all-inclusive resorts have not taken the same initiative. While most have kids clubs and smaller pools, not many have added extras like splash pads, watersides or kid-friendly areas. This, however, can be made up with the presence of a sandy beach – something you can get on a cruise, but you have to travel a bit of a distance to find.
In short, your family will have a great time on a cruise or at a resort. If it does come down to price a resort vacation will more than likely be a better deal as there aren't as many add-ons. A cruise can also be had at a great deal, but it might take a bit of research to get it done.
Related Articles: