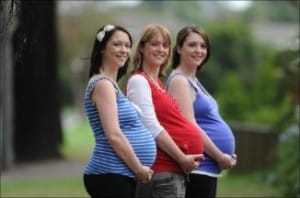 An Australian set of identical triplets are making news after it was revealed that the 3 sisters are expecting babies within three weeks of each other.
The trio – Lindsey, Natalie and Deborah – were born to mom Dorothy Calladine in 1984 and at the time were the first triplets to be born in the island for 25 years.
The girls are 26 now and all expecting little boys!  What are the chances?
Lindsey, who is the oldest, was due to give birth to her second baby on April 15th, Natalie, is due with her first child on April 26, as is Deborah, who's due on May 3.
Coincidentally, this is the order in which they were born.
'It was a great shock when we found out that they were all pregnant,' said Dorothy, who was born in the island and still has family here. 'The first one came and told me she was pregnant, that was Lindsey, then Natalie and then Deborah.

'The girls never planned to be pregnant all at the same time, it was just a fluke.'
Congratulations to the girls.  This is going to be one busy family!
---
[ad]