In what is estimated to be 150,000 to 1 odds, twin brothers Jarrell and Jeromme Spence became dads on the same day.  But the similarities didn't end there.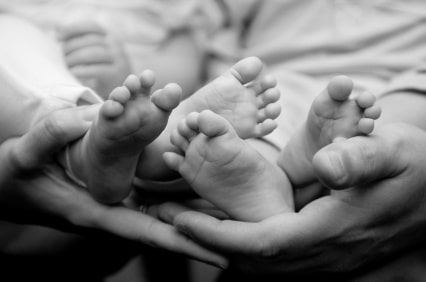 Jeromme and his partner Tegan Compton were the first to welcome their baby when Cameron made his debut at 2.04am on Monday morning.
Jarrell and his partner Francesca Ashe were just two and a half hours behind them, welcoming baby Cassen at 4.34am.
But what made the day even more exciting was that the babies were born in the same hospital, in the same birthing pool, with the same midwife!
Afterwards Jeromme told the AP, "Tegan and me came in first and little Cameron was born just a few hours later. Then the pool was washed and cleaned, and we handed over to Jarrell and Francesca!"
The brothers, knew their partners were both having baby boys, and were also due date on the same date, November 26th, but they didn't imagine the babies would arrive on the same day.
Their midwife, Barbara Kapoor, was just as surprised:  "I have never ever heard of this happening before. It is amazing!"
While this is the first time we have reported on twin brothers welcoming their babies on the same day, we have seen twin sisters do it quite often.
---
[ad]