Andrew Connell and his wife Vicky didn't plan on having a home birth, but that was how it happened. Well, sort of. The birth actually happened in a caravan that the family was vacationing in at the Seton Sands caravan park in Longniddry, East Lothian. It was a vacation that the family will never forget.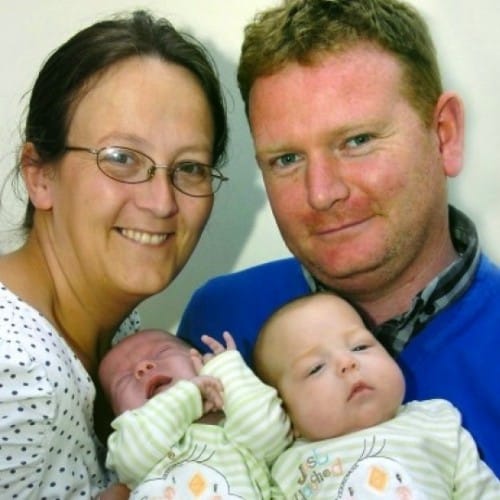 Andrew, Vicky, and their four children – Nathan, 14; Bethany, 13; Rose, 6; and Robyn, 5 – had just arrived at the park when Vicky started complaining of back pain. At first, they didn't think anything of it.
"She had been complaining of a sore back, but we put it down to the four-hour car journey," stated Andrew.
They would soon learn, however, that the twins were on their way.
"I was up at the holiday park arcades with the younger kids when Bethany came racing to tell me that Vicky was having the twins," Andrew recalled. "I ran back to the caravan, expecting to find her in the early stages of labor. Instead, she had already given birth to Kathryn and James was well on his way."
What would come next was shocking and scary, and it could have cost the life of one of the twins. But hero Dad stepped up to the plate.
"Ten minutes later my son was born, but he was not crying and was struggling to breathe," said Andres. "The [emergency] staff on the phone told me how to blow into his mouth and inflate his lungs. I kept this up until the paramedics arrived."
Andrew had, quite possibly, been his son's saving grace. The twins, born at just over 2 pounds each, both had pneumonia. They were given only a 5% chance of survival.
James was also diagnosed with a trachea esophageal fistula. It is a rare medical condition in which the esophagus is attached to the windpipe. But that wasn't James' only health problem. Doctors also learned that James' esophagus was not attached to his stomach, which made feeding him without medical assistance impossible.
Thankfully, doctors were able to correct the defect when James was just a day old. Doctors say he will still need another surgery and he is still in the hospital, but he has started eating small amounts of solids. Andrew and Vicky are very happy with his progress.
"They really are miracle babies," Andrew stated. "The twins sure made our Scottish holiday was the trip of a lifetime."
Related Articles: