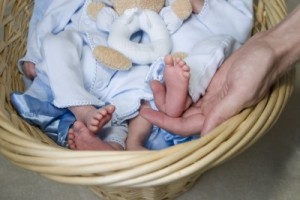 Twin 9-month-old girls are in the hospital in serious but stable condition after a fox attacked them. The wild animal made its way into their home and attacked the pair as they were sleeping.
The police and paramedics were called to the London home at 10 PM when the fox attack was discovered. The fox managed to climb into an upstairs bedroom window. The window had been left open to allow a cool breeze in on the warm night.
"We were watching Britain's Got Talent, it had just finished," the twins' mother, Pauline Koupparis told BBC London yesterday.

"We heard the girls cry. I went up the stairs. As soon as I got to the second step I thought it's a funny cry, it's not a normal cry. It was quite muffled but very pained.

"I went into the room and I saw some blood on Isabella's cot. I thought she'd had a nose bleed. I put on the light and I saw the fox. It wasn't even scared of me. It just stared me straight in the eye. I started screaming.

Then I realised that Lola was also covered in blood. My husband came running up – by this stage we were both screaming hysterically – and the fox didn't even move. My husband lunged at it a few times and it just moved a few inches each time."
Foxes are most likely to attack in self defense or to protect their children. It is estimated that there are 27 foxes per square mile in the urban areas of England. Rural living foxes tend to be much larger due to the size and amount of prey they have access to. IN both rural and urban areas, attacks are very rare.
In 2002 a 14-week-old infant was bitten by a fox that ran into a home. Later in 2004 a woman was bitten on the leg when she stepped into her yard at night.
Foxes can attack animals as large as lambs when they are hungry. Though attacks on humans are rare, the fox may have been starving and looking for an easy meal.
The girls are currently in serious but stable condition at Royal London Hospital. Summer, staff writer
Related Articles:
---
[ad]