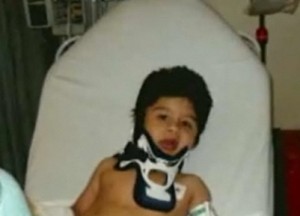 In what seems like nothing short of a miracle, a 4-year-old boy fell 70 feet from the railing of a downtown Miami high rise hotel. The boy managed to bounce from trees, landing safely in the dirt with no broken bones.
Little Joey Williams has a lot of luck on his side. At around 11 a.m. Friday, Joey climbed onto the balcony railing of a hotel room on the 17th floor. He then fell more than 70 feet, aiming straight for pavement below. In what should have been a fatal accident, Joey managed to survive by landing in tree tops and then bounced from the trees to a soft, dirt landing below. Even more amazing is that he survived the fall with no broken bones or injuries.
He was transported to a local hospital where doctors checked him for any internal injuries. After a short stay, he was returned home.
"In the case of joey, the miracle baby, he is fine," his grandfather, Jerry Unawich, said. "There are no broken bones and doctors told us everything is fine. No bleeding internally. We were truly blessed that God was there with him."
Joey landed between two pipes sticking out of the ground, and a large sprinkler head. Had he landed on any of those he could have been seriously injured just as badly as from the fall itself. The rescue crew that were called in were equally amazed that Joey survived without serious injury.
Lt. Ignatius Carroll, a spokesman for Miami Fire Rescue may have had the understatement of the year: "It's amazing that he's alive."
Four hours after Joey fell he was snacking on McDonald's french fries and a soda. Despite the frightening ordeal, Joey appears to be fine. – Summer, staff writer
Related Articles:
---
[ad]