The front line is no place for children, let alone small babies. But one baby boy is surely set to do adventurous things in his life thanks to his mother's unusual choice of place of birth. A British soldier who was deployed in Afghanistan and had no idea that she was carrying a child, gave birth to her baby boy right in the middle of a war zone!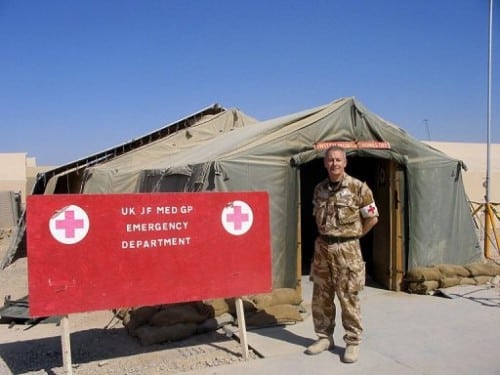 The baby was born five weeks premature to a soldier mom deployed as a gunner in the Royal Artillery. The delivery took place at Camp Bastion on Tuesday just days after the Taliban launched a deadly attack on the UK's main base in Helmand.
The woman has been with the 12th Mechanised Brigade since March and did not know that she was pregnant. Two days ago she complained of severe stomach ache and that is when the doctors at the camp found that she was carrying a baby. The soldier was in her 34th week of pregnancy, revealing that she had been expecting before coming to Afghanistan for her 6 month duty.
The birth has astonished UK military chiefs who are now considering stricter measures before deploying women as soldiers and sending them to the frontline.
Since 2003 almost 200 troop members have been found to be pregnant during war though this is the first time that someone has delivered right in the war zone.
The soldier was taken to Camp Bastion's £10million field hospital where doctors are more used to treating war wounds than delivering babies.
Thankfully, the hospital is one of the best equipped in the world and has portable X-ray machines, an operating theatre, CAT scanner and an intensive care unit capable of treating up to 20 seriously-ill patients.
A military source said, 'This has left us completely gobsmacked. You prepare yourself for dealing with war wounded at Bastion – not a mother giving birth to a baby. It is the talk of the camp. This is a very unusual case. The mother deployed not realising she was pregnant and had no idea she was pregnant until she gave birth. She has not done anything wrong.'
Lieutenant Colonel Andrea Lewis, commanding officer of the field hospital, said,
 'This is a unique occurrence, but my team is well-rehearsed in the unexpected and they adapted brilliantly to this situation. I am pleased to report the mother and baby are doing well and we are all delighted at the outcome.'
A 'specialist pediatric retrieval team' from the John Radcliffe Hospital in Oxford will soon be sent to Afghanistan to take care of the soldier and her newborn as they take their RAF flight home.
What seems odd is that the soldier in question not once felt different despite taking part in a tough pre-deployment training, which included a gruelling eight-mile march and five-mile run.
Says one senior army official,
'It is bizarre that she didn't feel some side effects of the pregnancy. She is obviously pretty fit and strong. The strains and demands on soldiers working on the frontline make it surprising she didn't realise.
He adds though that the conditions in Afghanistan are very different and drastic from that in UK. The different diet, Afghan heat, different hours of working etc. lead many soldiers to feel a little odd and most put it down to the change in the environment.
He says, 'The baby's successful delivery is a wonderful testament to the outstanding job the medics do here. It shows how they can use their extraordinary skills to turn their hands from saving lives to delivering babies.

'A lot of the medics are reservists and work in hospitals back in the UK so the concept of someone giving birth is not completely alien to them. But they do not have pediatric equipment here so they had to make do as best they could.'
Major Charles Heyman, who edits the British Army handbook says the incident is astonishing as a simple urine test would have confirmed the soldier's pregnancy and she might not have had to go to Afghanistan. He says the army needs to tighten up its procedures.
According to the Daily Mail, last year another soldier Private Kayla Donnelly, then 21, from Penrith, Cumbria, accidentally found she was pregnant after she collapsed in Tenerife. She had earlier thought that her weight gain was because of the army's ration.
Around 500 British women are currently serving in Afghanistan and they can be part of any team except those who engage in hand-to-hand combat with the enemy.
Amidst news of constant deaths, this is surely one odd incident all soldiers will want to remember.
---