While visiting Walt Disney World we planned a day at Blizzard Beach to break up our time at the parks.
We'd never done a waterpark with the kids so they were excited to check it out and hit the waterslides.  I'm not a huge waterslide person so I was looking forward to seeing what else they offer for vacationers who want to beat the Florida heat.
Getting There
Disney is famous for their transportation system, but we were visiting during low season which meant we had to take a bus from our resort, Port Orleans Riverside, to Animal Kingdom and transfer to Blizzard beach from there.  Thinking that would eat up too much of our day, we opted to just grab a taxi and head straight there.  The cost was $17 each way.
Before we left the hotel the concierge recommended we bring our own towels.  Guests who can't bring them with can rent them for $2 each.
Designed like a ski resort town, the first thing I noticed when we arrived was the Christmas music playing throughout.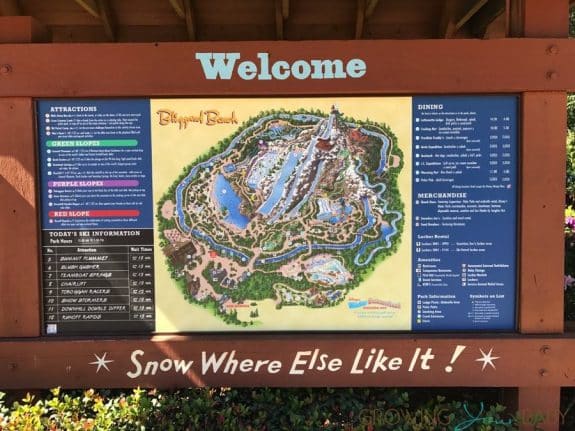 As we made our way through the park towards the wave pool I was impressed by the size of pool and the amount of chairs around the perimeter.
Melt-Away Bay is a 'walk in' pool so it's shallow enough for little swimmers.  The waves add a bit of excitement for more experienced swimmers and those in between can float around on an inner tube.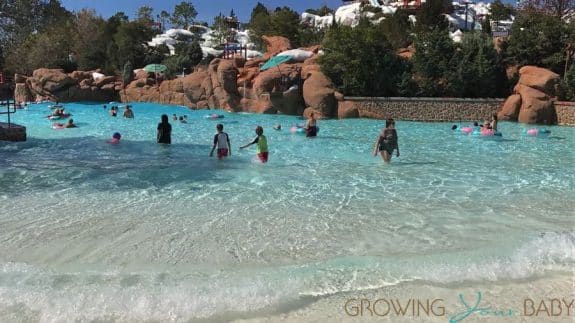 This pool was where we spent most of our time.  My kids loved the beach sand that surrounded it and floating on the tubes in the waves.
The park is split into 4 areas that each offer something for visitors of all ages.
Purple Slope
This area is home to the racing section of the park.  Each water slide gives vacationers the chance to outdo their friends and family.
On the Downhill Double Dipper you can travel up to speeds of 25 mph (40 km/h) while racing on an inner tube.  Disney has added internationally recognized ski racing graphic elements and flags and you will get to see your time when you're done!
On Snow Stormers everyone gets a mat and you lay on your stomach.  This slide follows a switchback course through ski-type slalom gates.
Much like the potato sack racing slides you see at the fair, Toboggan Racers is an 8-lane, 250-foot (76.2 m) slide that allows you to race with your family and other park visitors.  You are on your stomach and you fly down the mountain trying to hit the finish line first!
There was a fourth side on the purple slope that wasn't open while we were visiting.
Green Slope
The Green Slope attractions are more for older visitors and can be accessed by a staircase, or the chairlift Disney has installed in the middle of the park.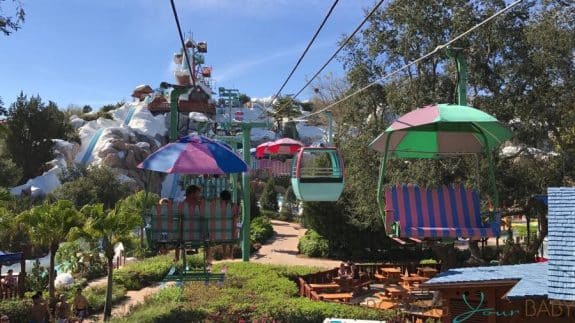 Summit Plummet is Blizzard Beach's flagship attraction at 120 feet (36.6 m) tall and speeds 60 miles per hour (97 km/h). It's also the third-tallest and fastest free fall slide in the world. Riders have to be 48 in (122 cm).  I was not brave enough to ride this slide but my boys and their dad were thrilled to experience it.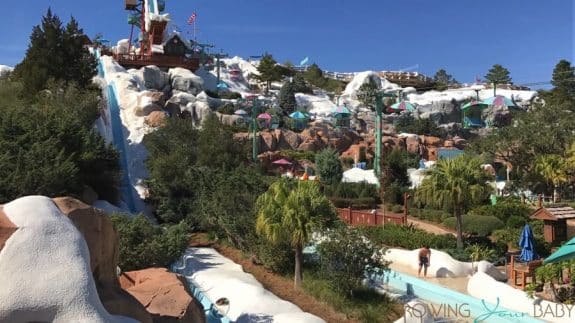 Slusher Gusher, which is located right beside it, is a good way to ease in.  At 90-foot-tall (27.4 m), 250-foot-long (76.2 m), this snow-banked mountain gully body slide reaches speeds up to 35 miles per hour (56 km/h). Because there are two places where it almost levels off, only to drop back down again you can achieve air time.  My kids loved this one and rode it quite a few times.
Teamboat Springs is tucked behind the main mountain and to be honest we almost missed it.  After looking at the map I realized there was one waterslide we hadn't hit and we went up to find it.   The world's longest "family white-water raft ride" at 1,400 feet (427 m) long, guests sit in large blue rubber rafts and hold on while the gushing water takes riders down the slide and up the walls. The pace is much slower than the aforementioned slides, but this ride was actually my favorite!
Ground level
Ground level offers lots of great areas for family members of different ages.
Cross Country Creek is a 3,000-foot (914 m) slow-moving "lazy river," that travels around the perimeter of the water park. Guests float in inner tubes through an ice cave where they're splashed with the "melting" ice from overhead. You can enter and exit the lazy river from 7 locations throughout the park.  From start to finish the journey takes between twenty and thirty minutes.  We loved there was a mix of shaded areas and sunny spots as you meander around the park.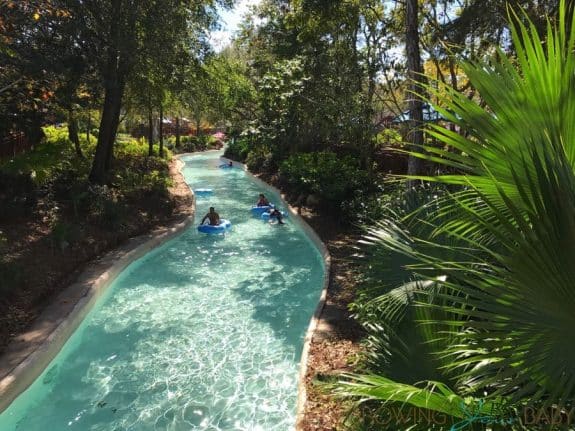 Located adjacent to the ski lift, Ski Patrol Training Camp is an area for kids between the ages of 6-12.
The main leisure pool contains 'icebergs' kids can walk across, and Fahrenheit Drops kids into eight point five feet (2.6 m) of water.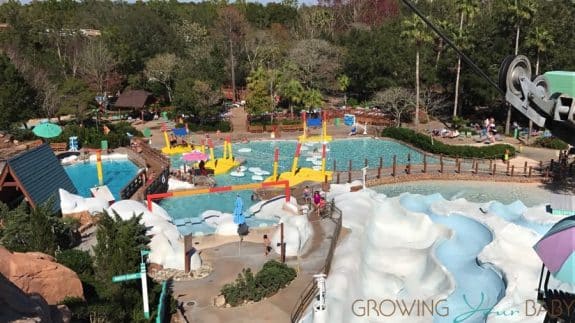 Freezin' Pipe Springs is a body slide that feeds into the Fahrenheit Drops pool and Cool Runners is a wide-open slide where kids make their way down 'the moguls' on inner tubes.
For kids under 48″, Tike's Peak has a bunch of smaller waterslides, a snow-castle fountain play area, and a splash pool with animal sprinklers.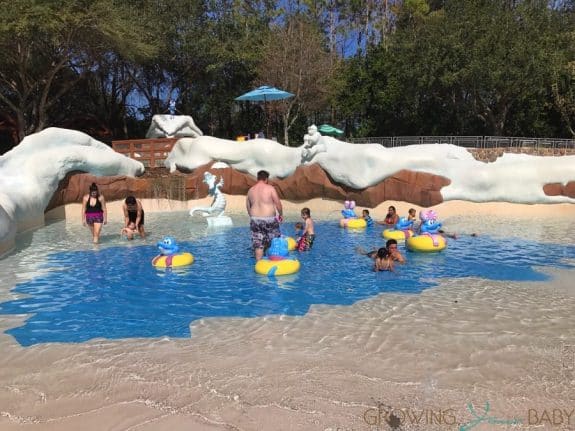 Regardless of how adventurous your family wants to get, there is something at Blizzard Beach for you. Relax by the pool, float down the lazy river or whip down a water slide – visiting this water park is the perfect way to stay cool on a muggy day!
---
[ad]