While visiting Walt Disney World in Orlando Florida in February we stayed on property at their Port Orleans Riverside Resort.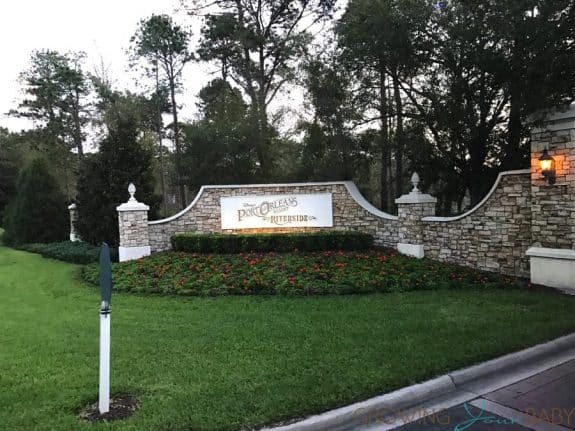 One of Disney's moderate resorts, Port Orleans Riverside's design comes from Southern Louisiana with their gorgeous plantations, large porches, and sweeping staircases.
The property is quite large and divided into different areas depending up which room you've chosen.  For the first two nights, we stayed in one of the resort's Royal Rooms.  Designed as a nod to Princess Tiana, these rooms are done in gold and royal blue, and feature headboards with a fun firework light-up display. I will full admit I loved the headboards and could watch them all night. The small magical details are so exciting to me.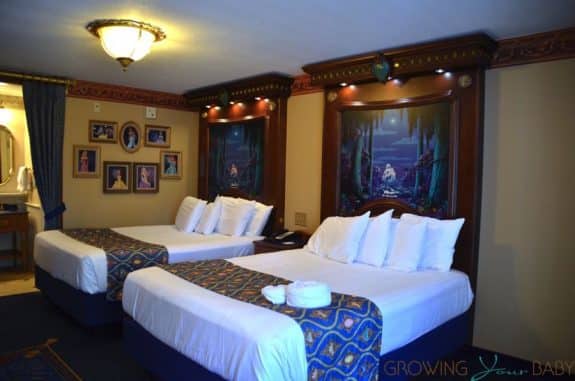 For our last two nights, we stayed in a standard room with the very same layout only fewer princess details.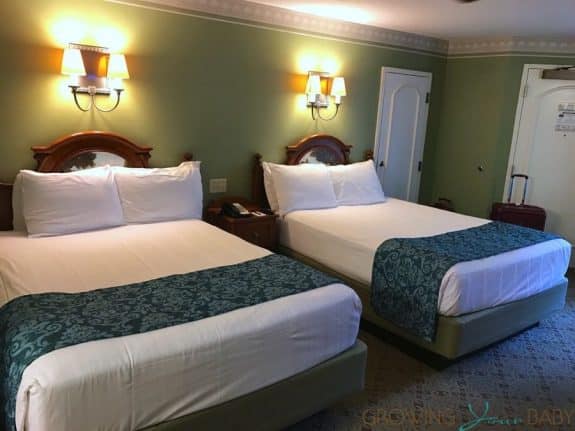 Both these rooms were located across the 'Sassagoula River' that runs through the property in Parterre and Magnolia buildings.
As a family of four, we found both rooms to be spacious and comfortable.  They had everything we needed for our short stay and were a quick walk from the shuttle area that takes you to the park.  It is important to mention that this resort is so big, there are 4 shuttle stops so be aware of which one is yours because you could be in for a bit of a walk if you are dropped off on the opposite side of the resort.
One of the things that has always impressed me about Disney is their details.  When they pick a theme they carry it through in every element of the resort.  Each building has a unique design and the property exudes the charm and romance of the South.  From horse drawn carriages to flowing water fountains and elaborate gardens, walking through this property is like visiting Lafayette.
When you walk through this property you feel like it has been here for more than a century.  The streets are lined with lanterns and the trees tower over the buildings.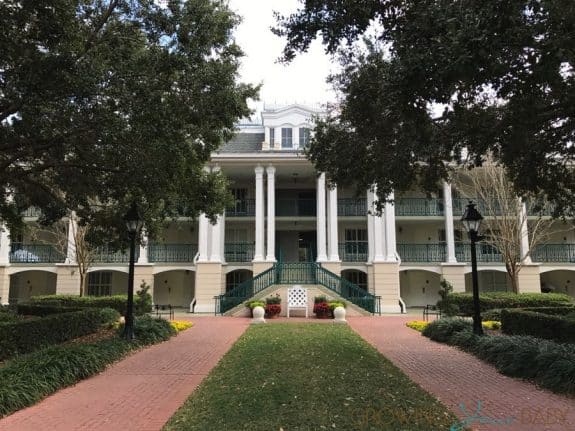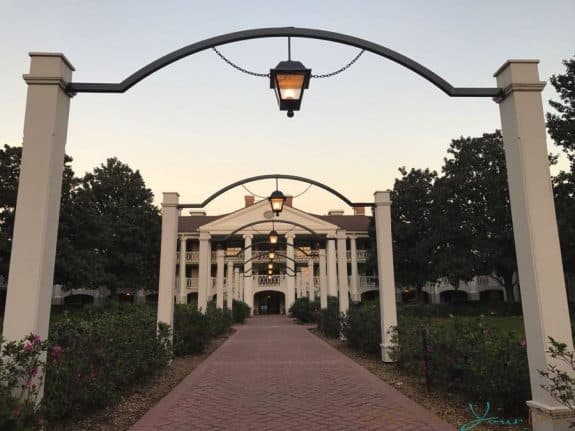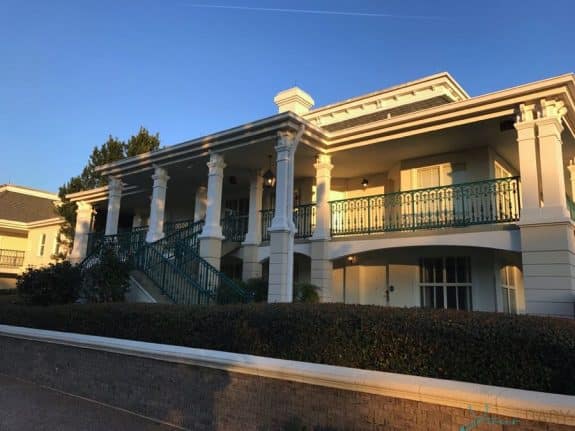 When you arrive you will enter the "Sassagoula Steamboat Company" lobby with the ports of call listed on the roof around the room.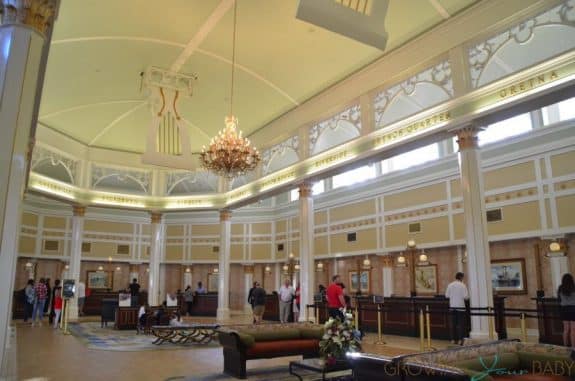 The main building serves as the resort's hub with most of their shopping and dining options.  To the left of the lobby is Futon's General Store where you'll find over the counter medication, Disney Apparel, pool toys, snacks, and everything in between.
Down the hall, hungry guests can enjoy a sit-down meal at Boatwrights or grab something quickly in the Riverside mill.  We dined here the most.  My kids loved the selection and the portions are generous for the price.  Here you can get sandwiches, pizza, pasta, hamburgers, and some Southern dishes.  They also have the magical Mickey waffles at breakfast and kid favorites like chicken fingers and mac & cheese.
Outside of the main building, there is a bridge to take you to Ol' Man Island, where the resort's main pool is.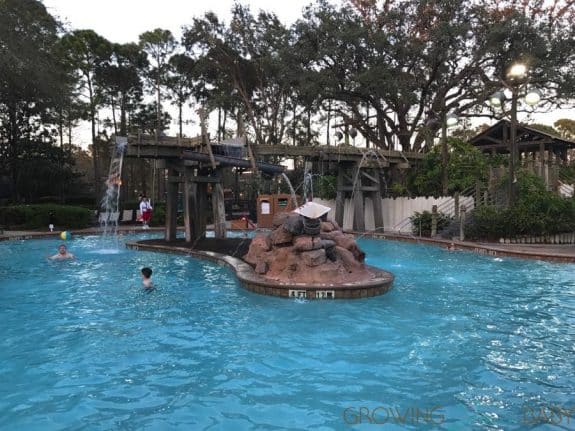 Also on the island is the Muddy Rivers Pool Bar, Fishin' Hole, Campfire and Children's Playground.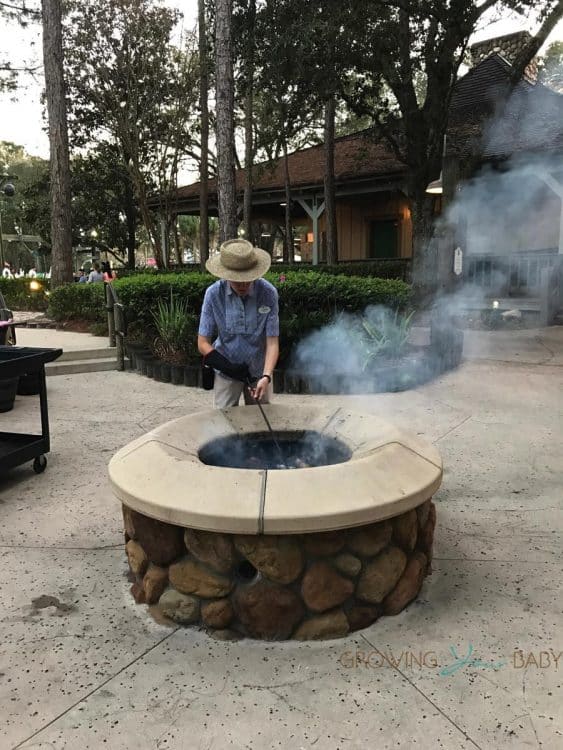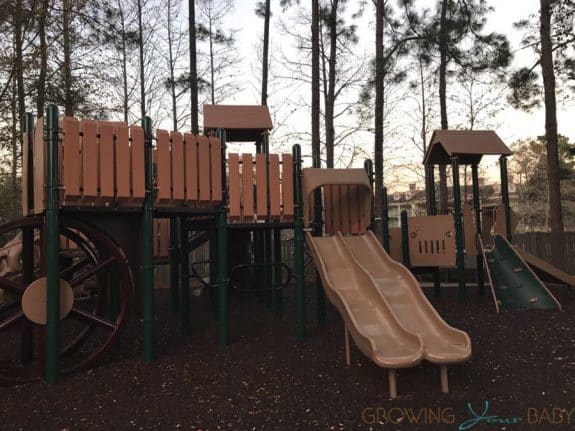 The pool, which was open from 10am—9pm(low season hours) is designed like an old saw mill with a waterslide, waterfalls, a jacuzzi and a smaller splash pool for little ones.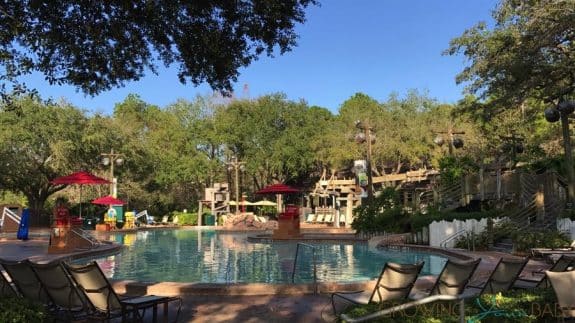 Visitors who want a quieter day by the pool can relax at one of the additional 5 pools sprinkled through the resort.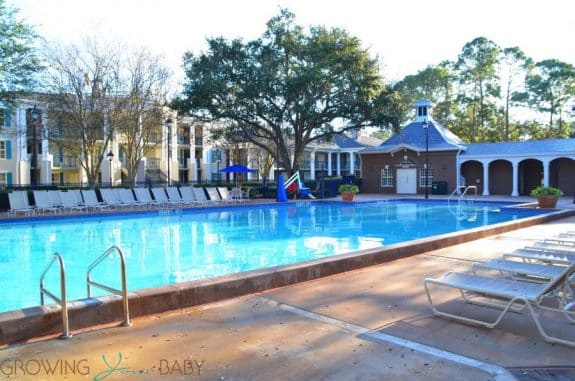 Families who want to do laundry will find machines by the quiet pool locations. Bring your bathing suit and take a dip while your clothes dry!
Also located just outside the main Sassagoula Steamboat Building is the free water ferry to Disney Springs. A 2½ mile trip down the Sassagoula River, ferries depart the marina about every 20 minutes. The trip takes 5 minutes to get to French Quarter, Port Orleans sister resort – and then an additional 15 minutes before you arrive at Disney Springs. There are different boats that dock at different areas of Disney Springs so make sure you catch the one going to the area you are looking to visit.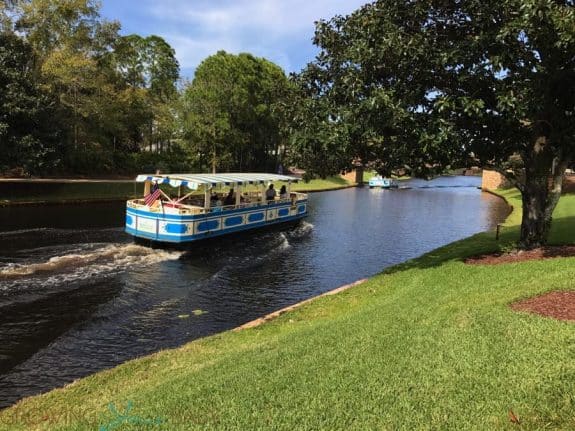 Having stayed at a few Disney properties, I can honestly say Port Orleans Riverside Resort is the biggest bang for your buck.  The per night price was around $200 and it offered everything we've come to expect from the resort's higher end properties.  If we visit again this hotel will be high on our list.  It has a very charming feel and offers everything a traveling family needs!
---
[ad]
Save
Save