If you are planning to visit Walt Disney World one of the best ways to preserve your memories is with Memory Maker.
During our recent trip to the mouse house we added Memory Maker to our vacation.  Initially, I hoped to just get a few photos of the whole family, but what we ended up with was so much more.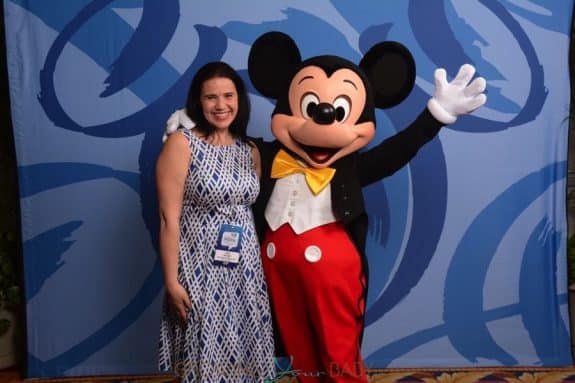 Whether you stay on property or are just visiting for a couple days, Memory Maker can by added to any trip.  The full price is $169.  That price drops to $149 if you book it more than 3 days in advance.  I know.  Another $150 after you have already spent more than a $100 per person to visit each park does seem extreme, but the memories that Disney's photographers captured were more than worth that price.  Trust me.
Here are 5 reasons why you should add Memory Maker to your next vacation:
1. Disney PhotoPass Photographers
Disney's photographers are all over the park strategically waiting at some of the park's most popular spots.  Want a family photo in front of the tree of life, Cinderella's castle or at the entrance of Hollywood studios?  Done.  They are also present at most character experiences.
While you are visiting with the characters the photographers will take photos of you interacting with them as well as formal photo at the end.  The photo below was taken with Kylo Ren in the Launch Bay at Disney's Hollywood Studios.  He is a favorite for our kids and they LOVED this interaction with him.  Because we are all in the photo it was nice that we had someone to capture our faces as he shut my husband down.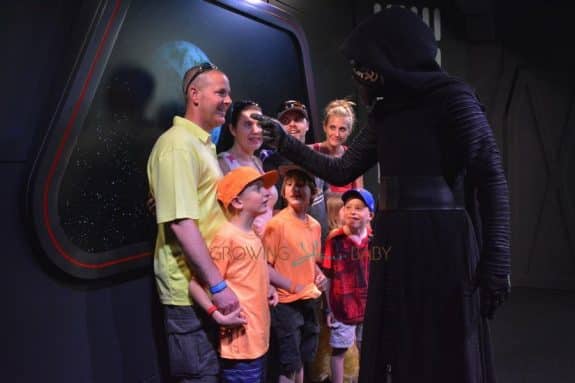 2.  Attraction Photos and Videos
My son loves roller coasters but you would never know from the 'I'm being killed' faces he makes when he is going down the drops and around the hills.  We didn't know this until we got a peek at the attraction photos at the end of the ride.  They are seriously priceless!
PLUS, on some rides Disney adds a video of your group, which is a great way to remember everyone's first time or 50th time.  The actual photo of us from the Tower of Terror wasn't very good – but the video showed more of our experience and we loved it! The one from the Seven Dwarf's Mine Train is pretty good as well!
3.  Magic Shots
Is that Tinker Bell in the palm of your hand or floating around your head? Disney's editing team adds some very sweet magical enhancements after the photo is taken.  Just make sure to tell them you want a magic shot and they will direct you on how to pose!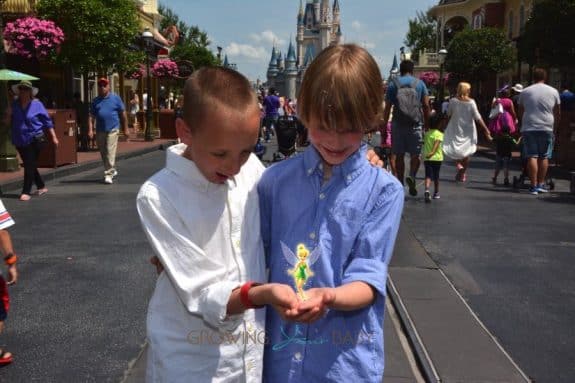 There are also some great desktop editing options when you get home.
4.  Mom(and dad) Stay in the picture!
Our vacation shots are often comprised of me and the kids, my husband and the kids or just the kids, but rarely all 4 of us.  On this trip both my husband and I were in almost every picture – including the attraction photos.   I can't tell you how much this meant to me.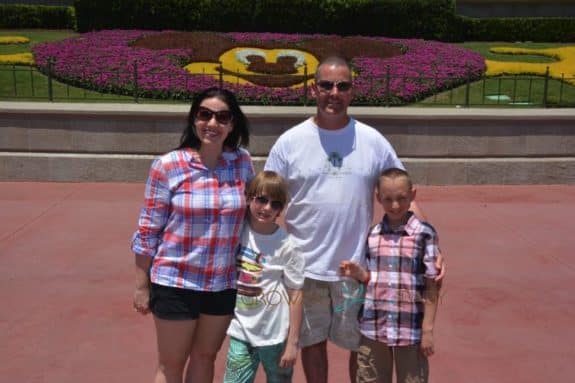 I can honestly say that I can count the number of family photos that we have with all 4 of us from the last year on one hand…  Maybe less.  Thankfully, I made up for it on this trip!
5.  No Limit
When our vacation was over we had 532 photos… Yes, I may have gone a little crazy with the character experiences and family photos in front of the train station, Cinderella's Castle and all the gorgeous topiaries at Epcot, but it was all worth it and there is no limit.  I will admit that some of those photos were doubles or triples but we loved this service so much we didn't miss an opportunity to have someone else capture a moment for us!
6.  Easily sharable
Within 10 minutes of your photos being taken they will show up in the My Disney Experience app.  From there you can save the image to be texted to friends and family or easily shared to social media.
One of my favorite features of the having memory maker as part of your vacation is how easy it is.  You want a picture – ask a photographer to take it.  They scan your magic band or the QR code on your app and you are off.  The photographers are very friendly and do a great job of taking a variety of photos in landscape and portrait.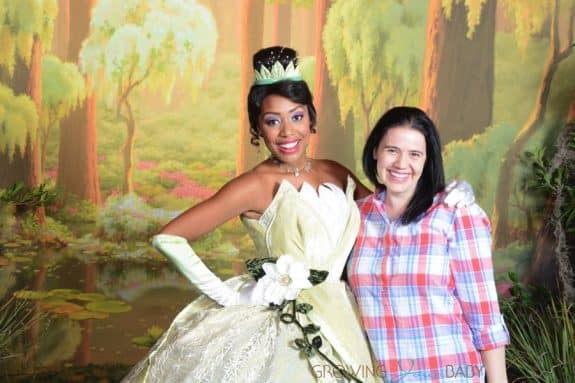 The best part is that having all of these memories will cost less than one photo session at your local photographer!
---
[ad]