Fans who have been waiting for TRON Lightcycle Roller Coaster to open at Magic Kingdom Park will be excited to know it coming!
Yesterday Disney released a video on Twitter announcing an April 4th opening day for the much-anticipated ride.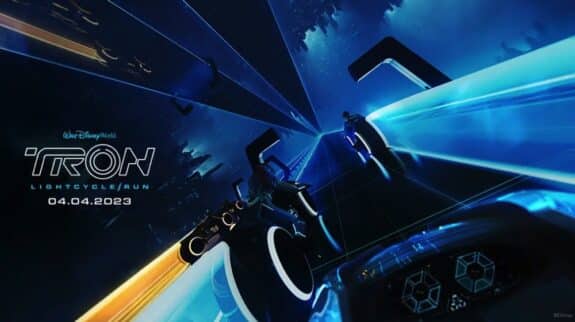 >?//: Prepare to enter the Grid. It's almost your turn. Ready? TRON Lightcycle/Run opens at Magic Kingdom Park on 04/04/23_

Head to the Disney Parks blog to learn more: https://t.co/RkMWsVeOG5 pic.twitter.com/98iMb6LqRB

— Walt Disney World (@WaltDisneyWorld) January 10, 2023
Modeled after the 1982 movie and 2010 TRON: Legacy, parkgoers will ride on the iconic Light Cycle motorcycle through the Grid.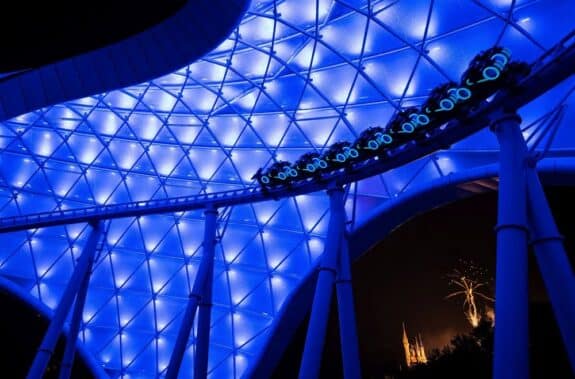 'The story picks up following the events of "TRON: Legacy," whose main character, Sam Flynn, is now opening new gateways into this digital realm at specific locations around the world. The first portal he created is at Shanghai Disneyland with the original TRON Lightcycle Power Run, and now Magic Kingdom guests will get their turn through this second gateway.
When you enter the attraction's queue, you'll feel as if you're digitized and entering the Grid for a special Lightcycle race alongside your family and friends. You'll all join Team Blue (hence the color of the wheels in the photo above) for a high-speed launch into a competition against Team Orange. As you swoop and swerve your way around the course, your goal is to be the first to race through eight Energy Gates and secure your victory. Will your team have what it takes? '
Located by Space mountain, the ride has been reportedly in development since 2017 when it was announced at D23.
The Disney Parks blog reports that cast members will be the first to enter the Grid during special previews before its official opening date. Preview opportunities are coming for Annual Passholders and eligible Disney Vacation Club Members as well.