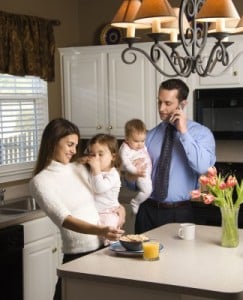 As the mom of 2 young children, I get asked all of the time if I'm having more.  For me, 2 is enough right now because they're both so busy, they keep me running every minute they are awake.
Plus, my youngest will start daycare at a play center by our house next year, which makes me question what is the best child spacing?
To find out what other moms thought, I polled some of my girlfriends to see if the way they spaced their families worked or if it could have been done differently.
Erin is the mom of 2 boys; 2 and 4.  She likes her spacing because, when they were young, her kids were on different schedules so she used that to her advantage and made time for each child when the other was sleeping. She likes the baby stage so she thinks that this spacing is the best for a mom who wants to cherish alone time with your child when they are smaller.
Melina's boys are 9, 12 and 15.  She loved her 3 year spacing because she always had time at home alone with the newest baby.
"When my second son was born my first son had just started 1/2 days at daycare so I was able to spend the morning alone with the baby while my son was at school.  By the time my third child arrived, my first son was in school full-time, my second son was doing 1/2 days at daycare and I was, once again, able to have me time with the baby in the morning."
Tara's girls are 18 months apart and while she found it hard for the first 2 years, it is perfect now.  By the 3rd year both girls were on the same schedule, doing a lot of the same things and playing together.  Now at 5 and 7, they have the same friends and will actually be in the same class next year because the school they attend has split classes every second year.
She did also note that, if her husband agreed, she would have another baby now that both of the girls are in school.
Amanda is our super mom with 4 kids 2, 4, 6 and 8.  She says that her spacing is both convenient and economical because they have never had to buy a second crib, playpen or highchair.  With the exception of car seats, all of her kids have been able to benefit from pass me downs from their older sibling, making the investment much less than those who maybe wait 5 or 6 years between having children as they would probably have to purchase much of their gear new again.
And while I would think that having 4 is crazy, she says that she and her husband find it perfect – as all 4 children do a lot together and all go to bed at the same time.  As one is done with their clothes, the next is able to use them.  She does say that she is tired.  Having 4 just means there is more to do – more laundry, someone is always toilet training and if one get's sick they all get sick.
My boys are 3 1/2 years apart and I have enjoyed this year having my oldest at school so that I can spend time with my youngest.  During the day we do fun things like go on playdates and go shopping.  I find it hard to take the two out together because they are so busy, they both go in different directions.  Having just 1 at home during the day is perfect spacing for us.
– Lisa Editor
Related Articles:
---
[ad]