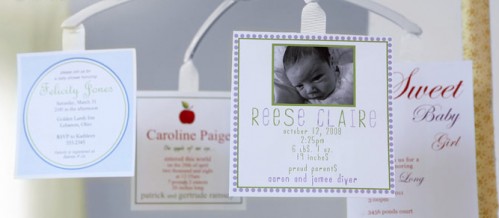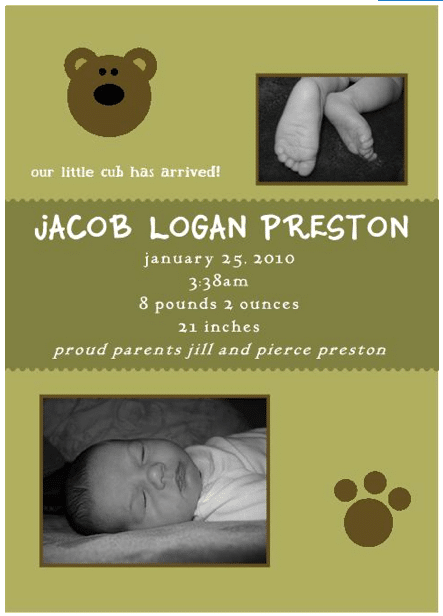 The arrival of a new baby in the family is an event like no other. Whether it's the first precious baby or your last perfect addition the news is so exciting you can't wait to share it. To properly introduce (show off) your child to family and friends a custom made birth announcement mailed to their home is the only way to go.
We were lucky enough to use When and Where Invites after the birth of our son. We emailed two pictures along with all the 'vital information' we wanted to share to Mandy, the designer and owner. We told her which designs we liked and she sent several mock up's for us to choose from. Mandy even went so far as to create a brand new design to perfectly suit one of the pictures we had chosen.
The W&W Invites website is very easy to navigate and just plain cute! Each step of the process is easy to follow (even for someone with sleep deprived "Mommy brain"). The most difficult part of the process was deciding upon the final design as Mandy did such a great job creating layouts that we liked all the options equally. Each announcement is printed on 5×7 photo stock and comes with a matching envelope.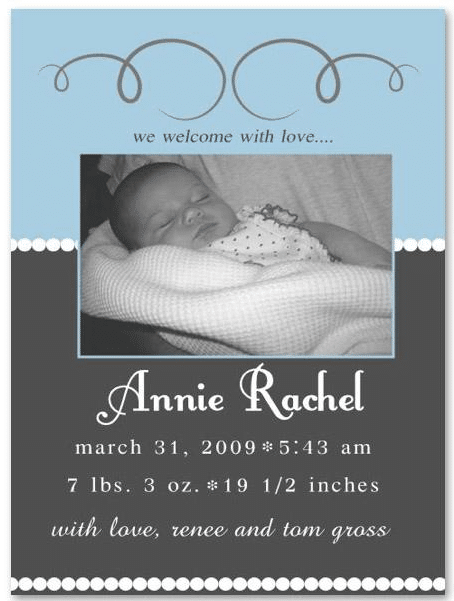 After placing our order the announcements were quickly shipped to us via United States Postal Service and packed securely to avoid damage in transit. The owner even took the time to include a handwritten note on beautiful stationary thanking us. The customer service was truly remarkable!
In this electronic age it's easy to send off a quick email with the stats and hurried picture but this service is a worthwhile investment. It gives friends and family something unique to place on their desk or fridge and shows the world how special your little one is.
We have received nothing but compliments from people on the stylish and sweet birth announcements we chose. More than one person actually thanked us for taking the time to send out the announcements, noting it is a wonderful tradition to follow.
-reviewed by Dionne
---