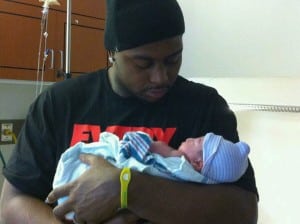 Just hours before he was set to play his first Super Bowl game, Defensive End Jarius Wynn wasn't warming up with the team – he was by his wife's side at a local Dallas hospital while she delivered their second baby!
Martavia Wynn had been out to eat on Saturday night with Jarius and some other family members when her water broke in the middle of dinner. She was taken to a nearby hospital while Jarius, who was supposed to be back at the team hotel, stayed at her side.
Hours later, the couple welcomed seven-pound, four-ounce Jarius Jr. into the world.
Playing on just 90 minutes sleep, the new dad still made it to the field for three defensive plays.
Though the baby's first name was set long ago, the couple said there still "Might be Dallas, might be Aaron," he said. Or they could go in another direction. "I'm thinking about Super, but I'm not sure yet."
Related Articles:
---
[ad]