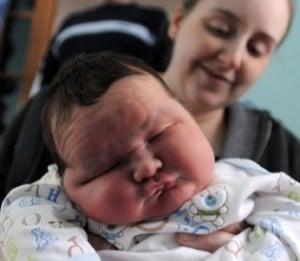 Amanda Byron had been forewarned by her doctors that she might have a bigger than average size baby after they saw her ultrasound. But the parents as well as the hospital were in for a surprise when they welcomed into the world baby Jonathan Patrick Rozzi born naturally and weighing 13 pounds at birth.
21 year old Amanda went into labor on Thursday at the Holy Family Hospital in Methuen. After four hours of labor and 10 minutes of pushing she delivered Baby Jonathan weighing 13 pounds 2 ounces and 22 inches long.
"When they told me his weight I didn't realize how big a deal this was until everyone started taking pictures," said Byron.
Many people were also surprised to find that it was a natural birth.
"The doctor said it's the biggest she's delivered naturally, and the nurses were all so surprised at his size. I was told the last big baby was 12 pounds but that was a C-section," Amanda said. "Everyone's asking me 'How did you do it?' It wasn't as much pain as I thought it would be. So I just smile and shrug."
From early ultrasound readings, doctors had told Amanda and her fiancé Eric Rozzi to expect a baby with above average size. But Amanda thought that could perhaps mean a baby weighing 9 or 10 pounds.
"We thought maybe 9 or 10 pounds and that the average size is 6 to 8 pounds. They don't know why he's so big. I had a normal, well-balanced diet — avoided caffeine and sodas," She also adds that neither in her family or Eric's family there are any traits of big genes.
Family members though welcomed baby Jonathan with open arms showering nick names like Big Baby and Sumo Wrestler.
The new mom has been advised not to carry heavy weights, including her baby in a carrier. But she thinks he is definitely going to be a cuddly baby.
"(Jonathan) cried when he came out, but for the most part he's a quiet baby. Definitely a cuddler," she said."So far he's eating a normal amount of food, but I got a lot of support from family. I'm looking forward to motherhood."
While Jonathan is definitely above average,  he won't make it  his name into the Guinness World Records.   The biggest baby they have on record was born in 1955, in Italy weighing 22 pounds, 8 ounces. – Atula, Staff Writer

---