Will Arnett put his promotional duties on hold to enjoy a stroll with his boys Abel and Archie in Soho on Monday(August 6th).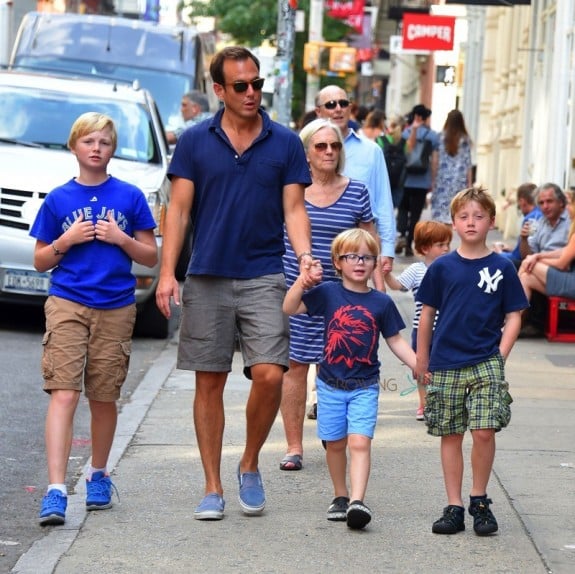 The boys where joined by Will's parents Emerson and Edith Arnett as they walked hand in hand through the city.
Will is pretty much the coolest dad on the planet right now. Just a couple months after voicing the part of Batman for the Lego Movie, he scored the lead in The Teenage Mutant Ninja Turtles opposite Megan Fox.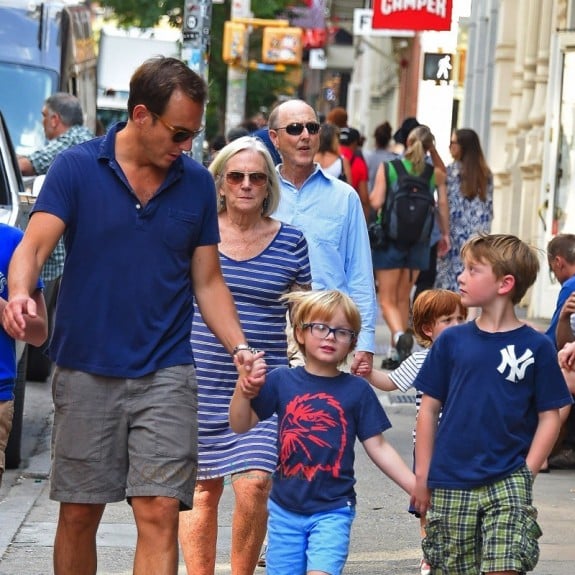 His boys, he told NBC News, love the Lego Movie.
"My kids are super into it too, nonstop. In fact, a couple of mornings ago, my son got into my bed at 6 a.m., turned on my iPad, and started watching 'The Lego Movie.' So I woke up to 'Everything is awesome!' and was like, 'Oh my God!'"
They're also excited to see TMNT but not because he's in it.
"It's a really fun movie, and my kids and all their friends are super-excited to see that," said Arnett, who plays Vern Fernwick, the cameraman working with TV reporter April O'Neil (Megan Fox). "But they don't really give me a lot of credit. They're like, 'Oh yeah, you're in that, whatever.' They just want to see the movie!"
Much of the movie will likely be familiar to the pair who spent a good portion of last Summer on the set with their dad.
Abel bonded with the movie's stunt team and honed his nunchaku skills in the process!