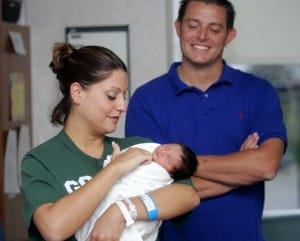 An Iowa couple has been left scrambling after wife, Amanda Burger, woke with stomach cramps on Wednesday morning that later turned out to be a baby girl.
The second time mom never once associated the cause of her stomach cramps with being pregnant. She just took some Midol and when that didn't seem to work, tried applying a heating pad to her stomach and went back to sleep.
When the increased pain woke her up at 4am she asked her husband, Paul, to take her to the hospital.
Doctors began running the usual tests for someone with stomach problems, which included a pregnancy test.
"I was drinking the CAT Scan liquid stuff," Amanda recalled, "all of the sudden he walked back in, within an hour, and he just grabbed the cup of the stuff I was drinking and said, you don't need this anymore, you're pregnant."
She was 36 weeks pregnant.
"Paul had no expression, and I'm sitting there going — what?" she says.
Just hours later, at 8:47 am the couple welcomed McKinlee Burger, who was five pounds, seven ounces, and nineteen inches long. After her arrival they were transferred to another Medical Center hospital because their hospital no longer had a delivery wing that could take care of the baby's needs.
"I watch that show I Didn't Know I was Pregnant, all I could of think of was Oh My God, now that's me", the new mom told reporters.
During her pregnancy she had a regular menstrual cycle, wasn't sick and even after a few strangers approached her on the street asking when she was due, Amanda still thought, "no way".
"I did six pregnancy tests over the course of five or six months, and they all came back negative. I never had any weight gain, never had any eating habits that changed," she says.

McKinlee shares her birthday with her great grandfather whom she was named after Mckinley King ninety one years old, her great uncle Tim King sixty one years old, and her aunt Kristi Annett forty years old.
"My grandfather was so excited. He said this was the best birthday present ever. I dared anyone to try and top it".
– Jeff, Staff Writer
---
[ad]