Every mom dreams of having someone who can take their kids off their hands for a few hours, while some people actually have the luxury of having this person live with them full time and its not their husband.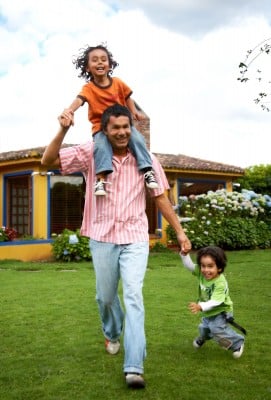 While watching the new reality show 'Hampton Nannies' the other night, I realized that it isn't just women being hired to look after the kids. Hampton Nannies also features a male nanny, who was very popular with the kids and the moms!
This got me to wondering – are male nannies more in demand than their female counterparts?
I really hadn't thought of having a 'manny' until last year when a friend of mine who is a busy NYC mommy told me that she had one and her 3 boys loved him.
At that time, it made sense to me that she had a guy watching her 3 boys because he could get rough and tumble with them, just like young boys like.
But would the same situation work if you had 3 girls? Probably not.
According to an article I read last year, 90% of nannies in the U.S. were female, leaving just a meager 10% male. Does that make them more expensive?
Here are a few pro's and con's for having a female vs male nanny.
Nanny
Pros:
Many be more sensitive to both sexes and their childhood issues
Can create balance in a family where there is no mom
Females normally have more experience looking after children from childhood babysitting jobs and younger siblings
More domestic – It's sad to say but women normally look after the inside while the men are better at the outdoor duties
Cons:
May not as strong or physically able to do the tougher kid stuff
Unable to relate to male issues
Manny
Pros:
Can create balance in a family where there is no dad
men are stronger, faster and more willing to play rough with boys and girls
men are known as protectors, and it might make you feel better to know that a man is guarding your home and your children
usually not grossed out easily
Cons:
some say that men are not sensitive or intuitive enough to provide adequate child care
men can be more intimidating than women. If all of your children are girls, they might not be comfortable with being watched by a male nanny
May be unable to relate to female issues
Bottom Line: I would probably stick with the traditional female nanny because in many cases they have been trained in many areas that will benefit your family in terms of safety, nutrition and education.
Those who have more money than the rest of us may opt for one of each if they one or more child of each sex. *this list was not meant in any way to be sexist, it was intended to profile the average female/male and compare their qualities for childcare*
---
[ad]