As parents we often work hard with our kids to support their learning.  But is it possible that all that hard work many not affect a child's overall academic performance?  Scientists at Florida State University think so.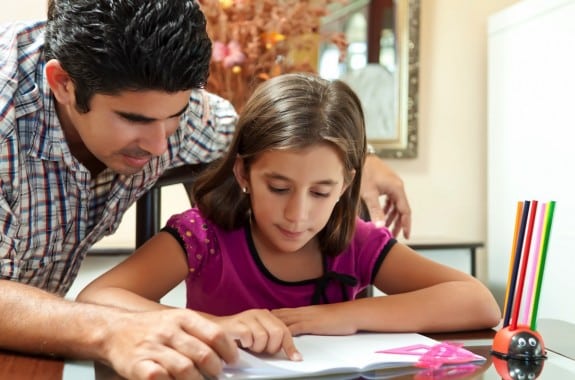 Published in the journal Intelligence, a research team, led by Kevin Beaver, a criminology professor at Florida State University set out to explore the link between parenting and offspring intelligence. In the past it has been suggested that parental behavior toward their children can influence how intelligent they will be in adulthood. But the FSU research team notes that this association may be incorrect because such studies have not accounted for genetic transmission.
For their study the researchers analyzed aged-match adopted youths who were part of the National Longitudinal Study of Adolescent Health. "The sample of adoptees is able to more fully control for genetic confounding," the researchers note.
Their parents behaviours were assessed, and participants completed an IQ test that measured verbal intelligence while at middle and high school. They completed the IQ test again when they were between the ages of 18 and 26.
From this it was found that, in both groups, the parent's influence on their child's intelligence during adolescence and young adulthood was "marginal and inconsistent."
"Sensitivity analyses that focused only on monozygotic twins also revealed no consistent associations between parenting/family measures and verbal intelligence," they say, adding:

"Taken together, the results of these statistical models indicate that family and parenting characteristics are not significant contributors to variation in IQ scores."

"In reality," he says, "the parents who are more intelligent are doing these things and it is masking the genetic transformation of intelligence to their children."
Researchers note, however, that these findings don't mean parents should stop interacting or helping their children. "But the way you parent a child is not going to have a detectable effect on their IQ," he adds, "as long as that parenting is within normal bounds."
I'm personally disagree about these results because in our family I have one son that struggles academically due to autism.  When I sit with him and work one on one with him he learns more, retains the information and is able to build on the principles I help him with.  What this study doesn't mention is the social benefit that kids get from having their parents work directly with them – not to mention the bonding that occurs when they get one on one time with mom or dad.
There will never be a down side to a parent sitting down and helping their child.
Plus, in the past studies have shown, "There's a clear indication of a neurological difference between kids who have been regularly read to and kids who have not," G. Reid Lyon, Ph.D., chief of the child development and behavior branch of the National Institute of Child Health and Human Development in Bethesda, MD has noted in the past.  These gains, she said, range from improved logic skills to lower stress levels. Stories before bed can rewire children's brains to quicken their 'mastery of language'.
For me, the takeaway is that intelligence is deeply laid in genetics, but that working with your child can benefit them in ways that can't always be measured.
During our bedtime reading sessions my boys learn about classic tales.  We laugh, discuss what happened in the story and talk about what could have been done differently. Socially this is important for kids to have that back and forth, but to also have someone they can talk to when they read something they may not understand.  Will that lead to him being a doctor?  No, but it could make him more of aware of the different levels of learning that are intertwined inside a story.  And that will always lead to more understanding of the world around us.
What these researchers forget is that when we give our child support it isn't just to elevate their academics, it is to show them they are important and that spending time with them is a priority – not just an obligation.
---
[ad]