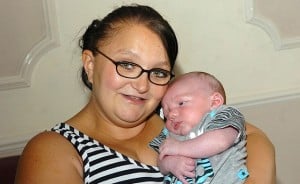 Lisa Witchalls had been told by doctors that she would never have a baby. So, imagine her surprise when she was rushed to hospital with a suspected ulcer, but came home with a baby boy!
Lisa, 27 had consulted doctors and was told she would never be able to become pregnant because she only had one ovary. Even though the news crushed her, she hoped the doctors were wrong and went back for additional pregnancy test on four occasions over the next nine months. But each time the test came back negative.
When she had unbearable stomach pains last Friday she asked her boyfriend to call an ambulance and was rushed to the hospital thinking that it was stomach ulcer. An ultrasound, however, revealed something that no one had expected – Lisa was 9 months pregnant!
The doctors found that the baby had some trouble with his heartbeat and to take no further chances they decided to deliver him immediately. Even as Lisa was overcoming from her first shock of being pregnant, she had already become a mother to a healthy 7lb 4oz baby boy named Reece.
Lisa said: "To go to hospital thinking it was an ulcer and come out with a baby is crazy. I was in shock and I couldn't believe he was mine. It has taken me some time to get my head around that I'm a mum. If a doctor tells you that you cannot have kids you do not question it."
The new mom says she went through a lot of emotions as the day unfolded. She also added,

"My nan who died in February, always said I'd have kids one day. I always thought she was being a typical gran but she was right."
– Atula, Staff Writer
Related Articles:
---
[ad]