The bedside sleeper is the perfect option for new parents who want to safely keep their newborn close after they come home from the hospital.
This compact infant bed stays close to the parent's bed, giving families the ability to monitor their newborn throughout the night and provide quick assistance if necessary. With bedside sleepers, bed-sharing is done safely – keeping babies in their own sleep space – while allowing for a sense of security, comfort, and closer connection. Additionally, bedside sleepers help prolong independent sleeping as the baby adjusts from being coslept in the beginning months to sleeping independently later on. Designed to be used for about 5 months or until your baby can roll over, these sleepers will easily transition from room to room so that families can have peace of mind when they travel with their babies. The features and benefits of bedside sleepers are invaluable to many new parents and provide an easy way to help ease common concerns when it comes to nighttime care.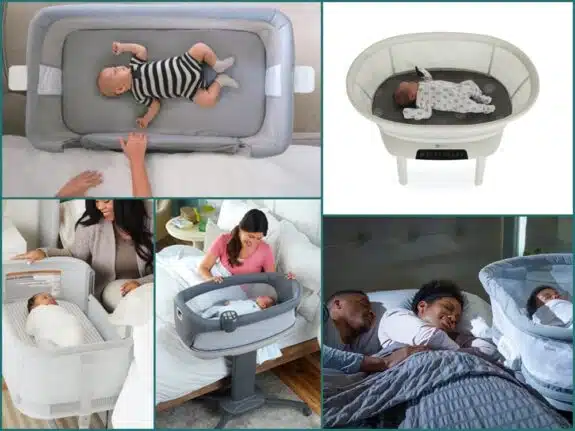 In the past few years, quite a few styles have been introduced. Some fold down for easy access, have different levels of adjustability, and include music and vibration, storage, and organic materials. We compiled a list of our favorites and their features to help you choose the one that is the best for your space and lifestyle.
Here is our list of the 10 Best Bedside Sleepers For Babies 2023
---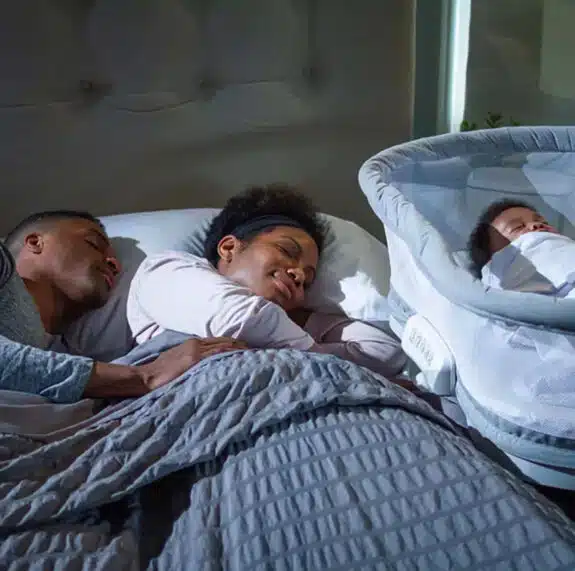 This collection of sleepers includes 3 models. Halo has included a variety of features that make their bedside sleeper a fantastic choice for your baby's first months.
With its 360-degree swivel function, the Bassinest Swivel Sleeper is fully adjustable for height and position; it converts to a lounger for a safe and portable nap space and has a soothing center that allows you to comfort your baby with gentle noise and vibration.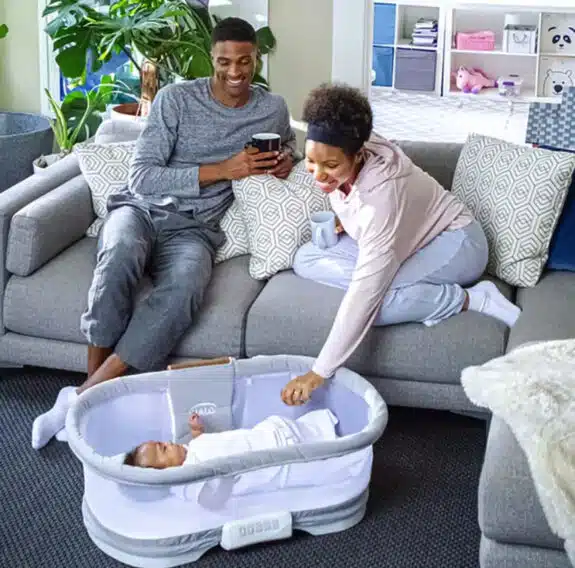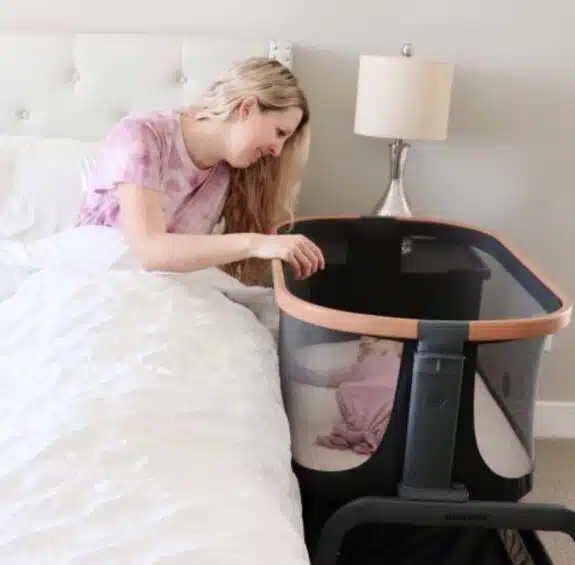 This modern design option has 4 different height positions that give you a customized fit by adjusting up/down, and side to side as well.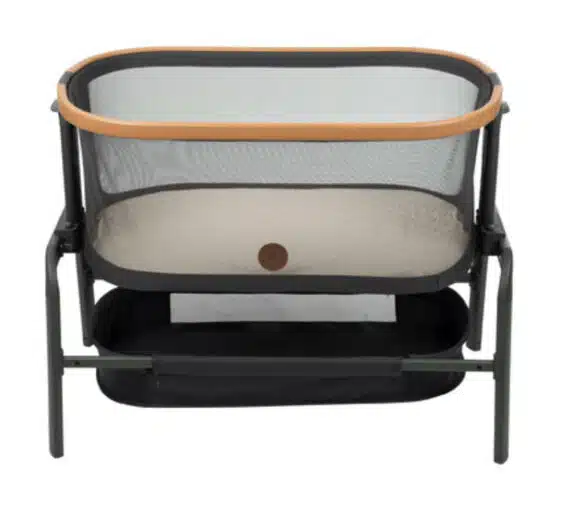 This allows you to be able to easily glide the bassinet closer to the bed to give comfort and care in the middle of the night.
The Lora also easily folds up and stores in its own travel bag if you need to take it to grammar or on vacation.
SPECS:
Dimensions – 35" H X 22" W
Max weight – 19 lb
Isabelle & Max Bedside Bassinet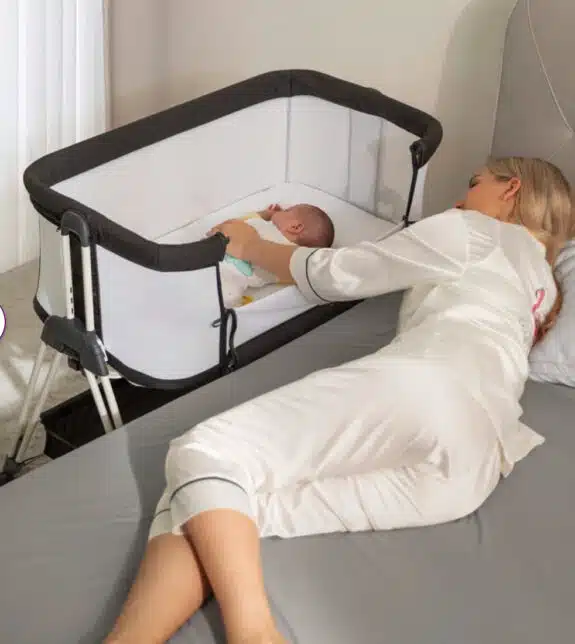 This convenient co-sleeper is designed to adjust to 7 positions so it can fit most beds. The side folds down to give your easy access to your baby in the middle of the night and the frame has wheels so you can move it from room to room during the day.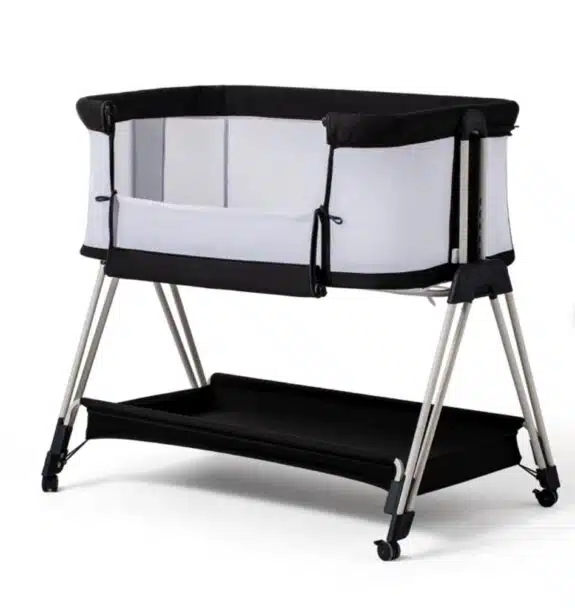 Underneath Isabelle & Max have included storage for diapers, wipes, and a change of clothes.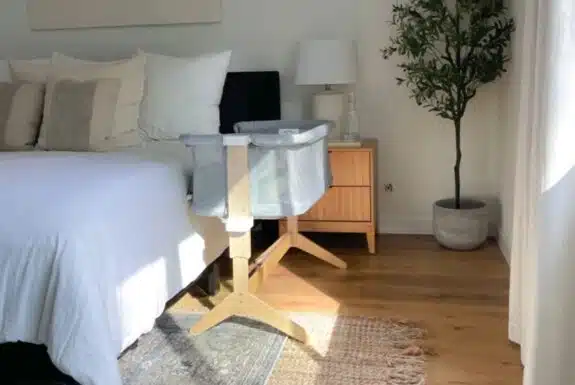 New from Newton Baby, this co-sleeper 100% breathable and washable bedside sleeper, designed for the safest, most comfortable sleep for your new arrival.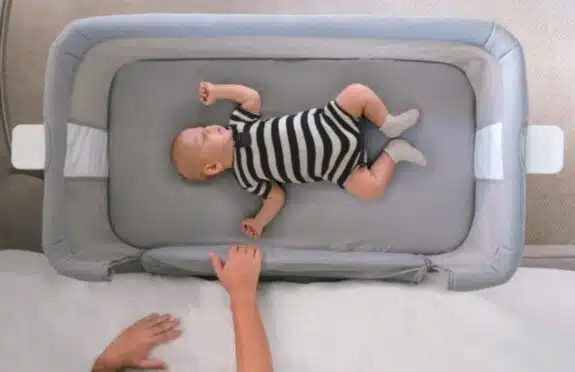 Utilizing the same patented Wovenaire® technology as their award-winning crib mattress, it features a largest-in-class sleep surface to allow for extended use as your baby grows. Lightweight, easy to assemble, and perfect for travel.
SPECS:
41.5" x 22"- Largest Bassinet for your growing little one
Designed in the US, made in the Netherlands, assembled in China
Solid birch plywood frame, with a baby-safe finish
8 adjustable heights for ease of use and safety
Removable arm and zipper flap for bedside sleeper setting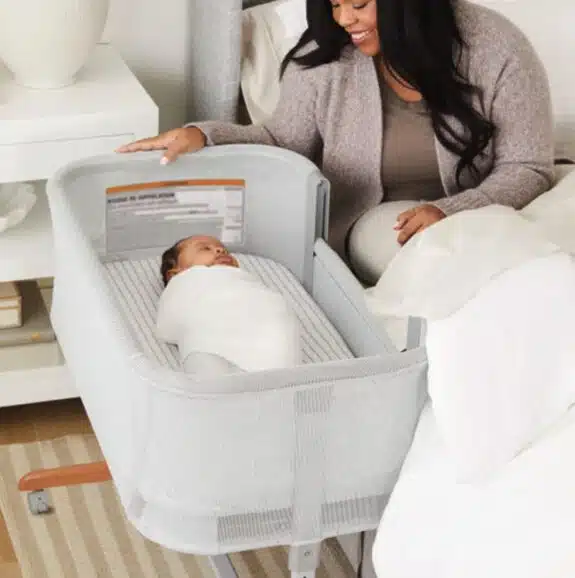 Skip Hop's co-sleeper features two ways to use it: bedside sleeper or stand-alone bassinet, the 2-in-1 sleep solution keeps baby comfy and close. In bedside mode, an easy-access door panel lets parents lean over to check in, nurse or comfort their baby right beside them.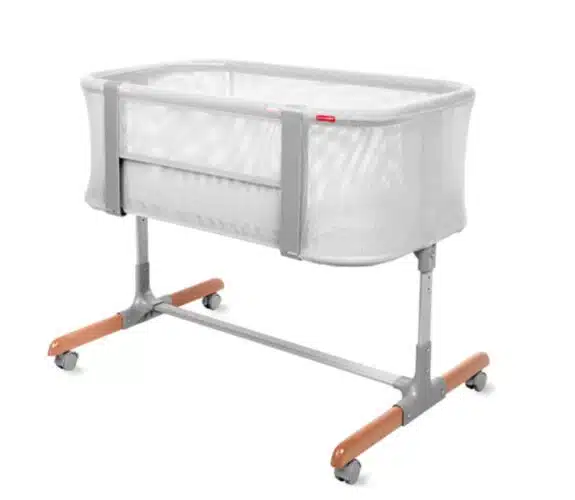 In bassinet mode, the baby is snug and set for sound sleep, while pivot-and-lock wheels make it easy to move from room to room. Mesh sides for breathability and visibility, a waterproof mattress, and a soft sheet complete this décor-friendly 2-in-1 must-have.
SPECS:
Age: 0-5m
Supports up to 20 lbs./9 kg
Size (inches): 33.9L x 25.2W x 25.7 to 32.7H; (cm): 86L x 64W x 65 to 83H
8-position height adjustment up to 32.7 inches high
Includes waterproof mattress cover & machine-washable sheet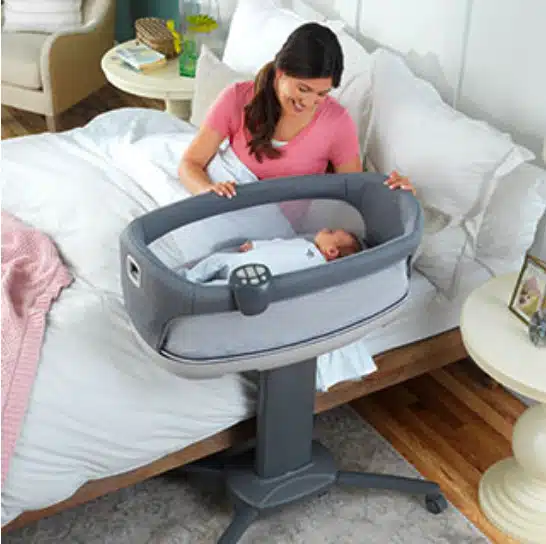 This 3-in-1 bedside sleeper and portable bassinet conveniently convert to a height-adjustable changing station for extended use up to 35 pounds.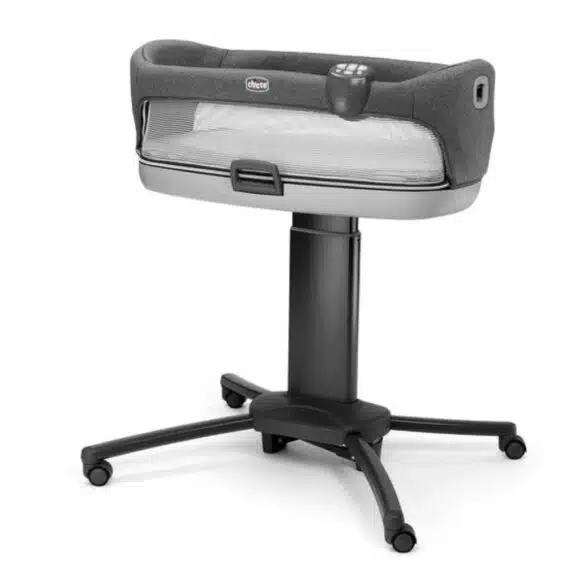 Mesh side panels and a range of height adjustments allow babies to be as close to you as possible while sleeping in their own comfortable space in the bedside bassinet. A soft, quilted mattress along with soothing melodies and vibrations provides a restful, cozy environment.
Close to You easily glides from room to room for convenient daytime use as a portable bassinet. Smooth-rolling rubberized casters and a dual-function handle/brake allow your little one to sleep soundly in any room of the house.
Time for a diaper change? Simply flip the mattress over to the waterproof changing pad and lower the bassinet walls for easy access while in use as a changing station. Bassinet and mattress fabrics zip off easily and are machine washable for ultimate ease of use.
SPECS:
Assembled Dimensions (L x W x H): 33.5″ x 28″ x 46″
Assembled Product Weight: 33 lbs
Height adjustment: 24″- 33.5″ (measurement from floor to bottom of the bassinet)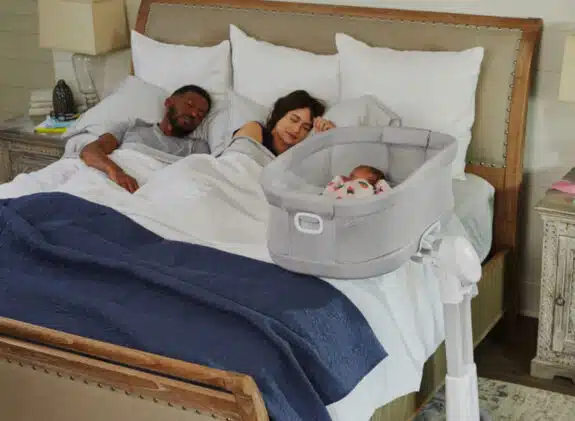 The Graco® DreamMore™ Bedside Bassinet Deluxe with Calming Motion keeps your newborn comfortably close and soothed. The bedside sleeper offers 9 height adjustments to fit over the bed, and the gliding legs allow you to pull your baby even closer for nighttime check-ins or feedings, without having to leave your bed. With its manual sway feature, you control the speed of the swaying motion to help the baby get back to sleep. Plus, the newborn bassinet can be easily removed from the base for increased portability around the home.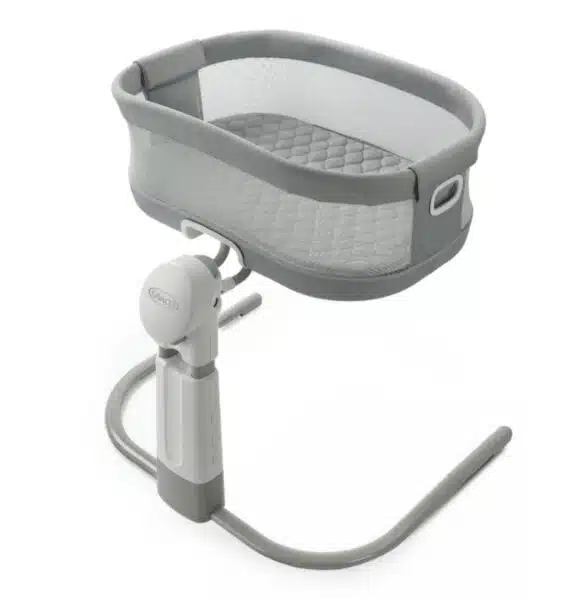 This cozy bassinet for baby also features airy mesh sides for both breathability and visibility and includes a washable mattress to keep baby's sleep space clean.
SPECS:
46.3 Inches (H) x 35.6 Inches (W) x 29.3 Inches (D)
Weight: 32.7 Pounds
Holds up to: 20 Pounds
Suggested Age: 0-12 Months
Fill Material: Polyurethane Foam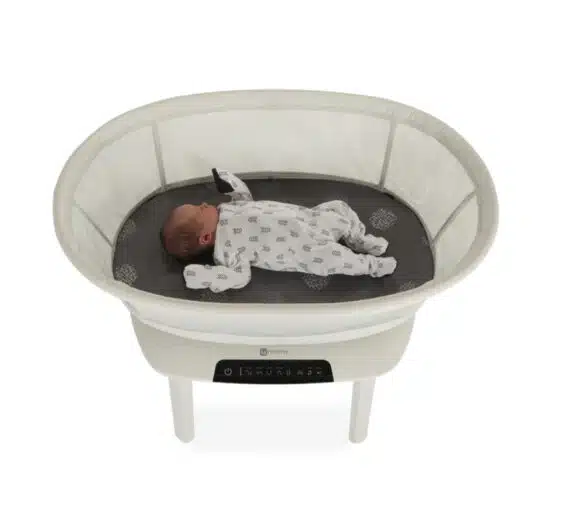 The 4moms® mamaRoo sleep™ bassinet uses the same motions of the 4moms mamaRoo® infant seat to help your baby fall asleep and stay asleep longer. Parents can soothe and comfort their baby in the 4moms mamaRoo sleep bassinet with its natural bounce and sway motions that move just like parents do.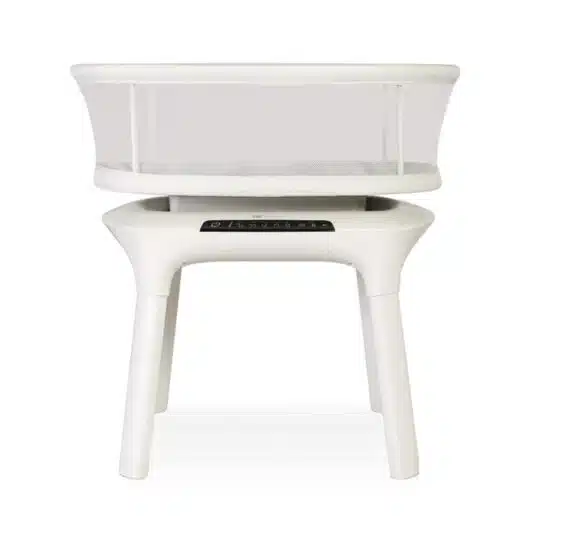 It features 5 unique motions (car ride, wave, kangaroo, tree swing, and rock-a-bye) and 5-speed options to find the perfect combination baby loves. You can also play one of the 4 white noise options (rain, ocean, fan, and shh).
The adjustable legs and mesh sides allow the bassinet to fit perfectly next to your bed. This allows parents to keep their babies in sight and give them the best ventilation while they sleep.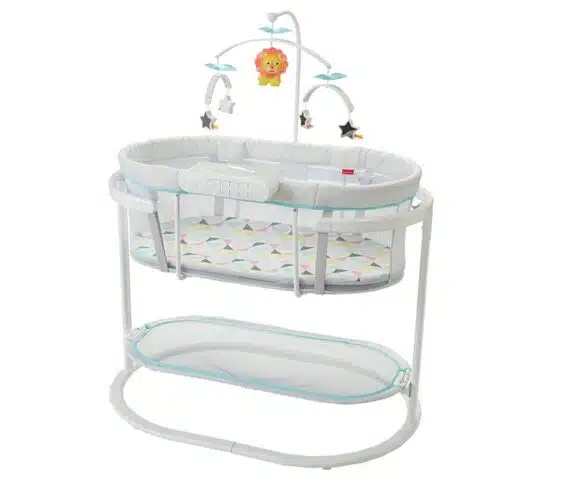 Part entertainment part sleep space, the Fisher-Price Soothing Motions Bassinet offers soothing sways, music, and sounds to calming vibrations, and light projection to help your baby drift off to dreamland in comfort.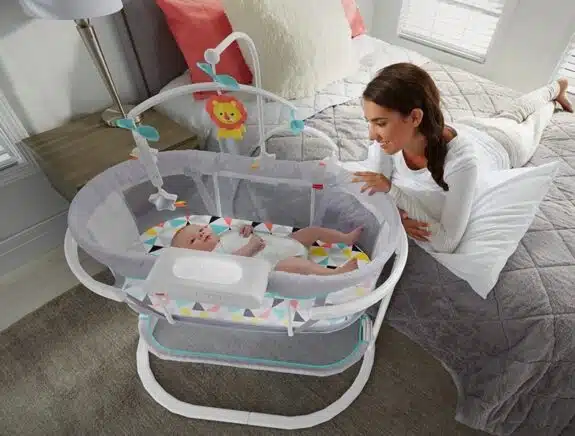 As little ones relax on the comfy sleeping pad, they can look up at the mesmerizing overhead mobile with stars while they gently sway. Or turn on one of the captivating light features, like the overhead projection. You can also remove the projector from the bassinet and use it as a tabletop soother And, there's a convenient night light setting for an added sense of security. For extra coziness, activate the 30 minutes of calming vibrations and serene songs or sounds.
The biggest splurge on our list, the SNOO Smart Sleeper Bassinet quickly responds with special white noise and jiggly rocking when fussy babies start to stir.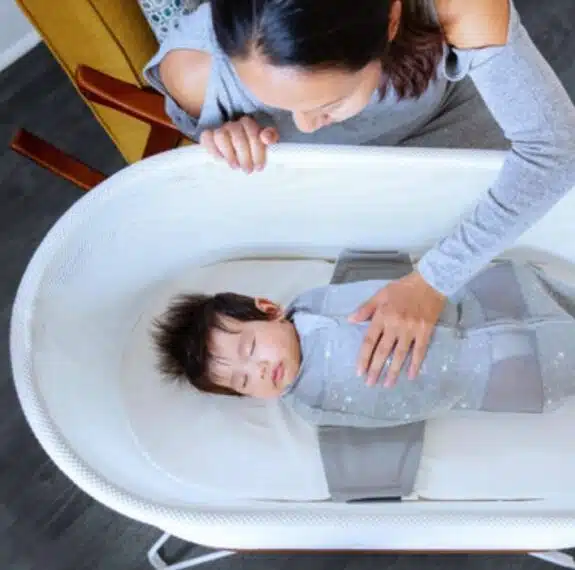 It has a patented, unique 5-second swaddle that is easy to use and keeps babies safely on their backs.
SPECS:
Bed size: 30" L × 16" W × 32" H with legs; Weight: 38 lb
Advanced audio processing to distinguish cries from ambient sounds
3 specially engineered white-noise sounds to calm crying and enhance sleep
Custom motor optimized for quiet and reliability
Related Articles: