We are a huge tech family, so we have a lot of devices in our house. My oldest son is Autistic and his 'thing' is technology; iPads, ipods, iphones, computers, DVD players, radios and even record players. He loves all multimedia and carries his (and my)iPad around with him everywhere.
The biggest issue with this is that he's not always steady and has dropped it a few times. He has no concept of the amount of money his device cost us, so it's our job to ensure that it is protected if something happens to it.
Knowing that kids make up a huge part of iPad sales quite a few companies have created some superb cases to keep these pricey devices safe.
Here are a couple I have found that are fun to look at and kid-friendly.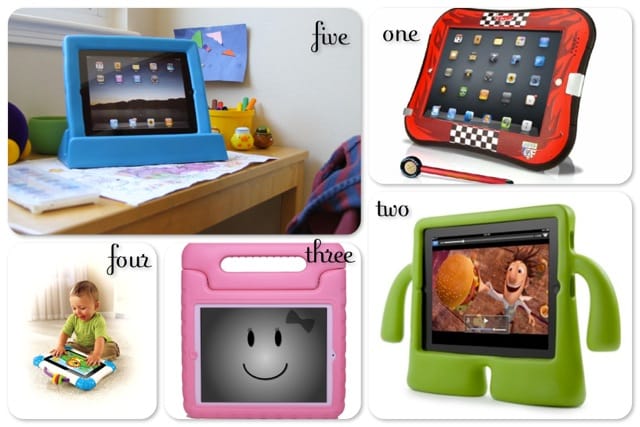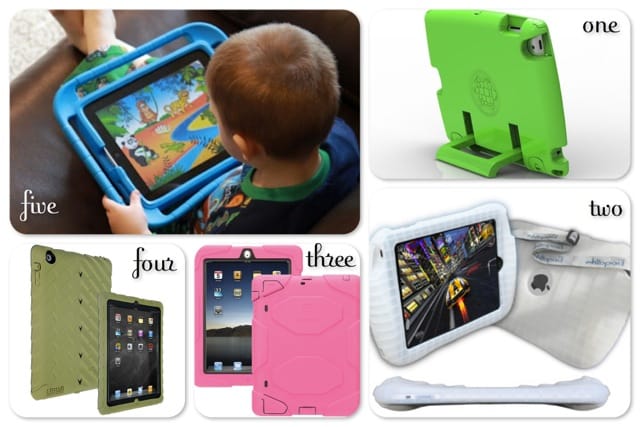 TRTL Bot – This durable, lightweight iPad shell was created by a start-up company that was funded through Kickstarter. It's genius design takes into consideration most viewing and traveling situations. The multipurpose handle is perfect for carrying, but it also doubles as a stand for typing and movie watching. A retractable home button protector ensures apps/settings will be safe when sharing your iPad with your family and the enhanced sound design redirects sound to the front of the device. Parents will also love that it is eco-friendly and made from recycled plastic.(compatible with iPad and iPad2)
EKTOPAD ($29.99) – For the iPad this cool case is made from the same rubber casing as the Wii controller. 'Integrated "Air Cells" and internal ribs give the Ektopad it's bounce and wrap the iPad in a layer of soft protection from all sides and corners. Watch videos hands-free on your iPad in the backseat of your car or on an airplane. Just strap the Ektopad to the seat using the included elastic strap.' For the iPad2 the company has added an extra layer of drop protection with an internal array of cells that protect the iPad 2 or 3 on all sides.
Griffin GB02534 Survivor Extreme-duty case($35) – This case has been tested to be safe if the iPad is dropped on flat concrete surface from 6'/1.8 m, Integral Display shield deflects wind and rain (Test: up to 200 mm/hr for 1 hour) and the sealed ports block blown sand and dust (up to 18 m/sec for 1 hour). Also comes with a multi-position workstand. (compatible with iPad2 and iPad3)
Gumdrop Cases Drop Tech Series Case($59.99) – This case is rugged, durable while providing drop protection. This iPad 2 case features a uniquely replaceable, snap-on integrated screen for maximum protection.
Gripcase ($29.99) – With handles all around the case, the Gripcase is perfect for little hands. Plus the EVA foam, which a lot of companies have been using, is lightweight, shock absorbent, resistant to surface abrasions, mildew and bacteria resistant and soft for comfort and ease of use.(versions available for iPad, iPad2 and iPad3)
---