Parents are really stepping it up when it comes to indoor playspaces. From turning lost space like the area under the stairs or basement corners into a play nook to converting the entire space into a village where the whole neighborhood can play for hours if you can dream it these parents have probably built it for their kids.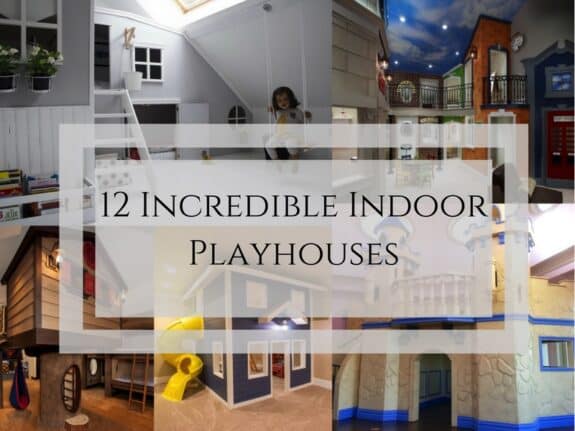 Slide, Climb & Hang!
Designed by Gabriel Builders, this large room for the kids includes a climbing wall, super slide, TV, chalk boards, rocking horse, and a two-story playhouse!   Kids can hang out with their friends or enjoy movie night from their perch.
Castle Fit for A Princess!
So you have a little extra room and you want to create something magical for your child?  This Stellar Woodwerks princess castle comes complete with two turrets, two floors, and room to sleep at the top.
There is also a circular staircase, a secret entrance and tray ceilings inside.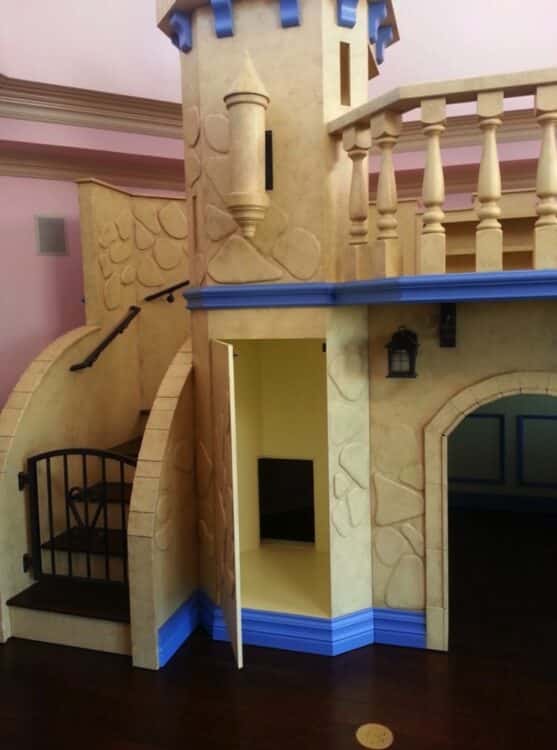 Play, Sleep & Swing!
This contemporary corner 3 level playhouse by Studio La Maison has it all.  Kids can invite their friends over and they can choose from 3 sleeping spaces.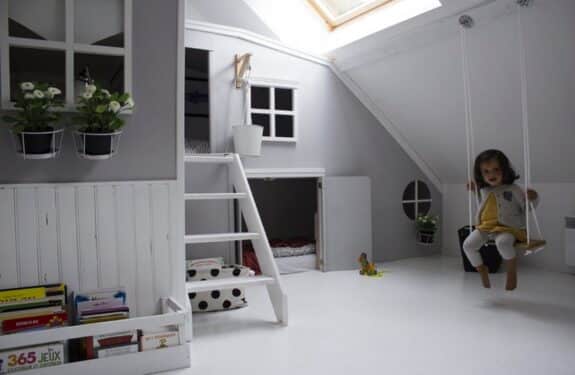 There is storage for their favorite books and flowers under the windows to bring in the outdoors.
This two-story farmhouse is a small town.  Complete with many different areas to play. There could be room for a kitchen, craft area.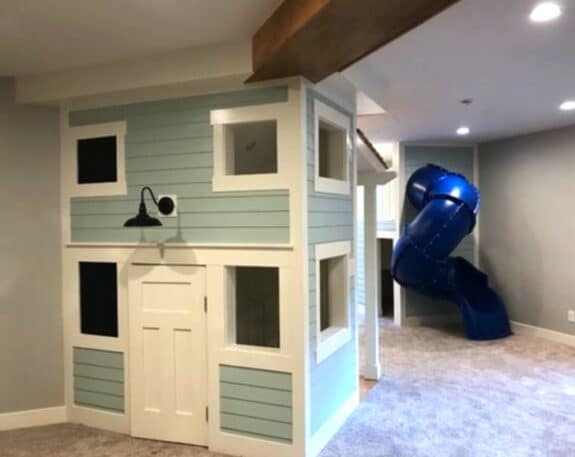 To get to the slide kids can climb the wall, whip down and start again!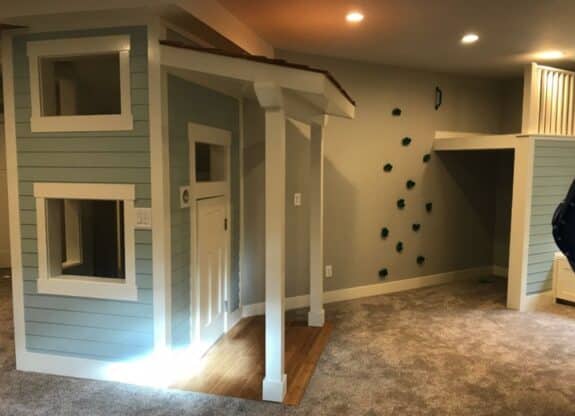 Country Inspired Basement!
A basement playspace complete with a climbing wall, reading nook and play kitchen that features a chandelier!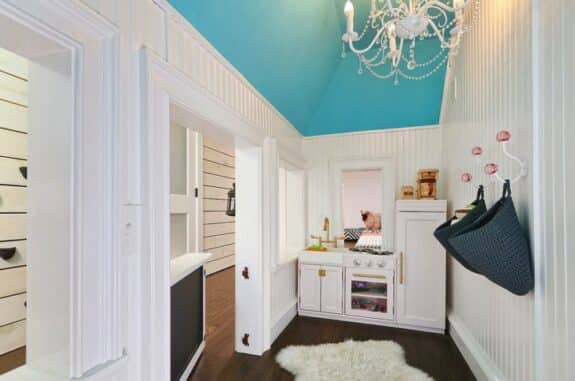 Designed by Bellweather Design-Build, LLC, this great space features some convenient organization plus some shelves to display your kid's favorite toys.
Summer Sleepover Cottage
This indoor playhouse has room for everyone!  The Summer Cottage, designed by Mayssa Al Ghawas, was made for two kids, with 2 beds under, a staircase with drawers leading to a playroom that can also be used for a 3rd guest for sleepovers, and a slide for the whole family.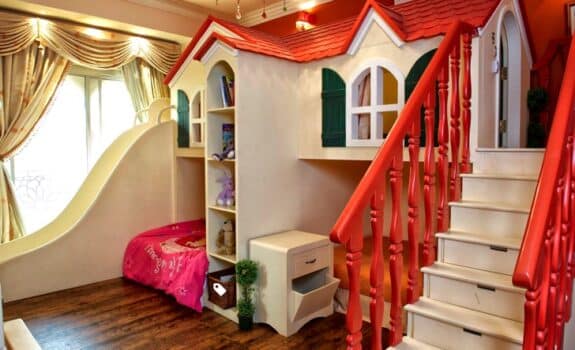 Two Stories Of Fun!
A house inside a house?  That's what Eagles Estate created for one family. Complete with two stories of rooms to play in,  the main floor has a kitchen and space for kids to relax. They can access the second floor by a ladder and ride down the corkscrew slide!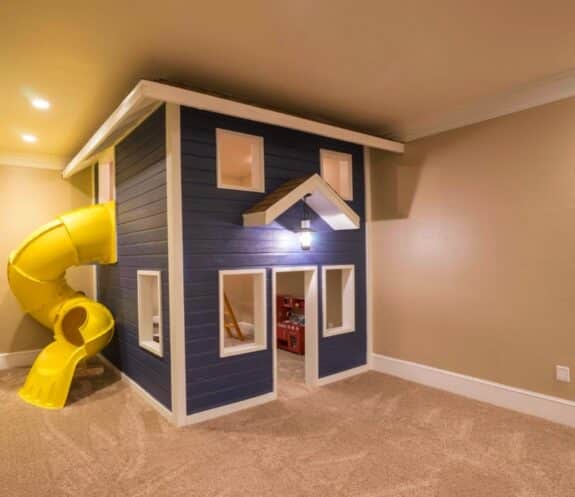 When you are short on space but want to create something awesome for your kids – you get creative.
This incredible playhouse comes complete with a two-story facade, a front porch light, and strings of mini lights to give it more of a magical feel.  Inside there is a kitchen and a sitting space for reading time.
Fully Equipped Attic!
This bright upstairs attic space converted to kids' playroom, was designed with numerous built-in cubbies, shelves, desk space, window seat, walk-in closet, and two-story playhouse.
The turquoise and orange palate used gives it a fresh, vivid look, while the storage ensures everything has it's place.
Loft in the City
This NYC city apartment got a kid-sized contemporary addition when this play structure was added.
Two floors, there is room for the kids to hang out, have sleepovers and blow off some steam.  The beech wallpaper brings the outdoors in while the bright colors give the set a fun, fresh look.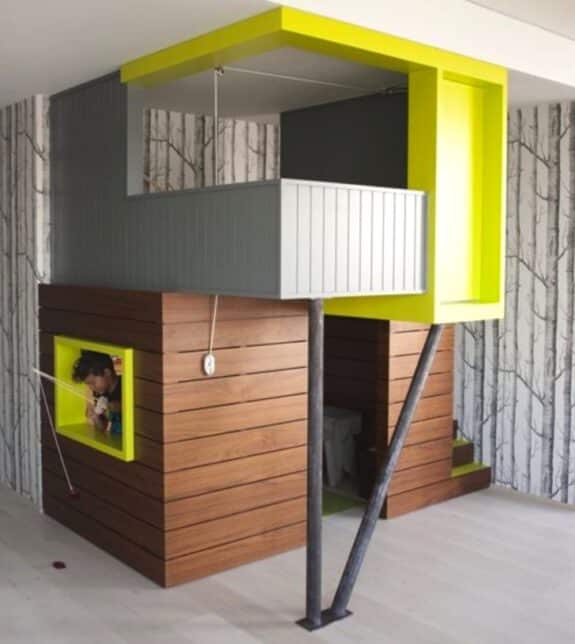 Swiss Family Robinson Playhouse!
This adventure bunkroom playhouse takes advantage of the space by using bridges and tunnels that connect sleeping and play spaces for this family.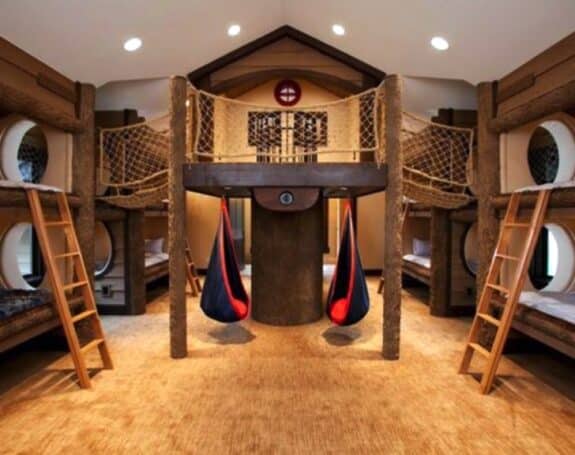 A ladder inside leads them to the lookout and a couple of hanging cocoon hammocks make the perfect place to read a book or hang out with friends.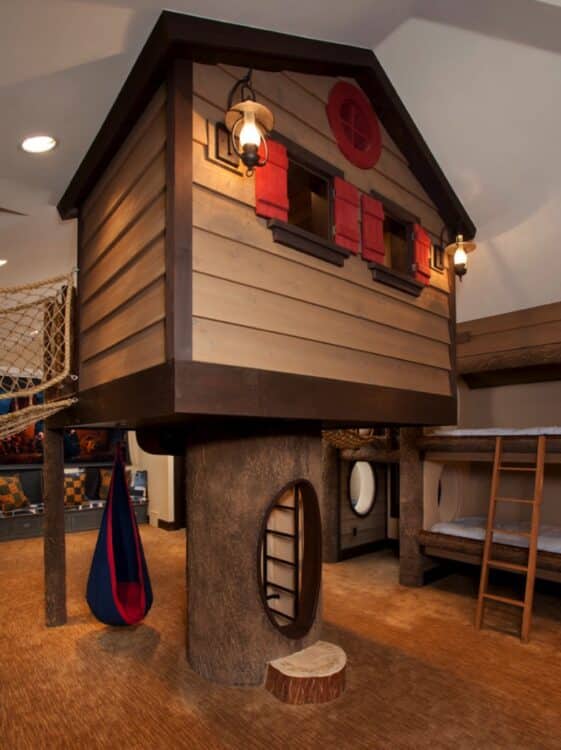 Kidtown USA!
Call your friends because your basement just became the place to be! This set is by far the most extravagant in the whole collection with an entire town created for kids to role play a million ways.
With a salon, boutique, games room, display space for your dolls, post office, art studio, bakery and a bunkroom for sleepovers, this playspace by McEwan Construction has something for everyone.