Her feet had been so tiny they were the size of her dad's thumbnail but 390gram baby Manushi is defying the odds and now healthy enough to join her family at home!
Born at 28 weeks, the little fighter wasn't given high odds of surviving. Just 13.75ounces at birth, she is well enough to be discharged from Jivanta Children's Hospital NICU hospital in Rajasthan, weighing 5.2lbs.
Delighted mum Seeta, 48, and dad Giriraj, 50, called her their "real-life miracle", while gushing about their daughter's strength. "She's just fought and fought and fought against all the odds, but she's made it."
Manushi arrived early by an emergency C-section, after her mum's blood pressure rocketed, causing an absence of blood flow to the foetus.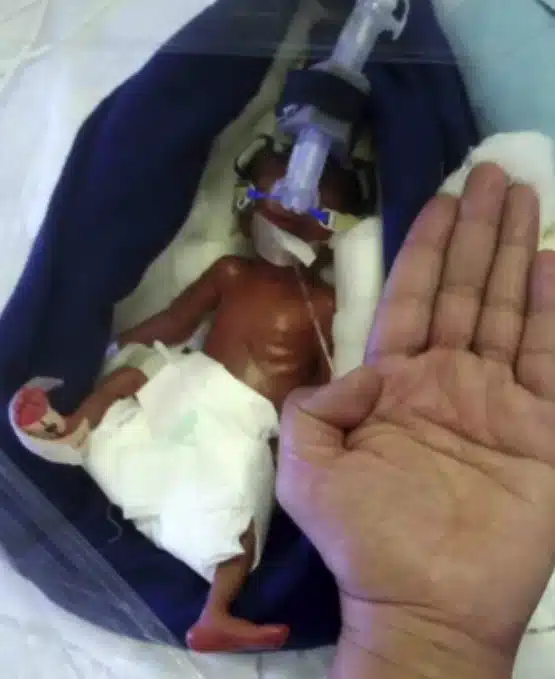 When she was born the micro-preemie was born struggling to breathe and with underdeveloped lungs, heart, brain and kidneys. With paper-thin skin, she was given a 0.5% chance of survival.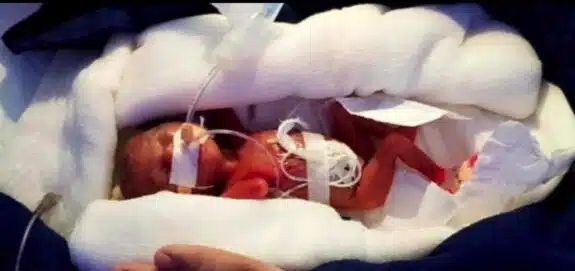 And at just 8.6in long at birth, she is believed to be the smallest surviving baby in Asia.
Chief neo-natologist Dr Sunil Janged said: "She was struggling to breathe, so was immediately put on advanced respiratory support ventilator to expand her tiny, immature lungs.
"We had to start the baby on total parenteral nutrition, which basically means giving all the essential nutrients such as amino acids, carbohydrates, minerals and multivitamins directly into blood circulation [sic]."
Now been discharged from hospital, Manushi is believed to be developing normally.
The hospital has waved the majority of her medical costs of Rs 1,000,000 (£11,500) given the family's low income.
Hospital director Dr Sunil Janged said: "We decided to save the life of the baby and offer her necessary medical care and attention because we wanted to send out a message that a girl child must be protected.
"In a state like Rajasthan where female infanticide is rampant, people have to come forward and take step to end this evil practice."
The smallest baby ever born is believed to be Emilia Grabarczyk. She had been born in 2015, weighing only 0.5lbs (.22kgs) in Witten, Germany.