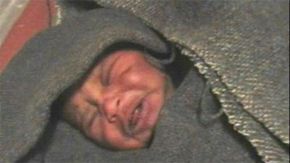 Here's a crazy birth story! Officials are reporting that a baby was born on a patrol boat as a group of 136 migrants were rescued off Malta.
Amid fears of political unrest in their country 86 men, 43 women and seven children fled Libya and were found in a drifting dinghy 72 miles south of Malta after a distress call.
The baby, who has impeccable timing, was born shortly after the migrants were transferred to a rescue boat on route to Malta.
In May alone almost 400 asylum seekers from Africa have landed in Malta worrying the tiny state.
The distance from Libya's coast to Malta is more than 560 kms, which could take weeks if the boat didn't have a motor. Could you imagine doing that in labour, while travelling with 135 other people?
Hopefully their move to the Italian Island will give these families a better chance.  It has not been said what will happen to the migrants who have managed to reach Malta, but UNHCR spokeswoman Laura Boldrini said,
"If people put themselves through such a dangerous journey it is because they have no choice. Nobody chooses to be a refugee."
---
[ad]