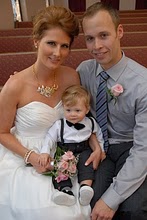 An Alberta couple has thrown down the social media gauntlet in their compensation battle with Alaska Airlines.
Dan Blais and Colleen Roberge traveled to Las Vegas for the Canadian Thanksgiving weekend, with their eight-month-old son Levi.  The purpose for the trip – their wedding!
The couple enjoyed the weekend and were ready to consider Levi's first trip a raging success, when disaster struck.  Disaster took the innocent, though gag inducing, form of a diaper explosion.
Dan and Colleen arrived at the gate 20 minutes ahead of the scheduled departure for their flight from Vegas to Edmonton, via Seattle.  That's when Levi had a moment of poorly timed incontinence.  The couple was then faced with a dilemma; board the plane with poop running down Levi's leg, or run to the bathroom for a quick change.  Colleen chose to dash to the bathroom, while Dan approached the Alaska Airlines agent to let her know what had happened and that his wife and son would be back momentarily.
He was floored by the agent's response, "I'll give you two minutes."  He was informed that if his wife and son were not at the gate in two minutes, their tickets would go to passengers waiting on the standby list.
Despite a frantic race to change and dress Levi and return to the boarding gate, Colleen's seat on the plane was gone.
So was their luggage – off to Seattle leaving Dan, Colleen and Levi in Las Vegas with nothing and no plan to get home.  They were told they could join the standby list, but there were 20 people ahead of them.  They were also told they could purchase alternate tickets with Alaska Airlines but there were no seats available for a couple of days.
In the end, Dan and Colleen forked out the doe for an unexpected night's stay in Las Vegas and an additional $1,000 for tickets on a WestJet flight the following day.
The couple has contacted Alaska Airlines to request compensation for their ordeal but they have judged the airlines offers inadequate.
So, in an effort to shame the airline into cooperation, the couple have set up a blog alaskaairhatesfamilies.blogspot.com and a Twitter account @AlaskaAirH8sFam.
The airline has posted an explanation of their policies in the comments section of the blog.  In the explanation they say that they cannot accommodate passengers who are late to the gate, as it disrupts everyone.  They offered two $400 travel vouchers as compensation, but the couple have refused them.
I have heard a lot of different opinions on this situation and I have visited the blog and have read many of the comments.  Honestly, I'm not sure which side I'm on.  Part of me thinks, 'be on time for your flight, no matter what.'  But another part of me empathises with their situation.  After all, there but for an inopportune poop go I.  Knowing me, I would have boarded the flight, poop and all and dealt with it on the plane…but that's just me. – Jen R, Staff Writer
Editor note:  Tonight the couple was contacted by a director at Alaska Airlines to resolve this issue.  They have apologized for what happened and offered to reimburse the family $1000, which was all they were looking for. Congrats to them.  Traveling with kids is tough, but it gets tougher when everything goes wrong. We hope their future trips are less dramatic.
---
[ad]