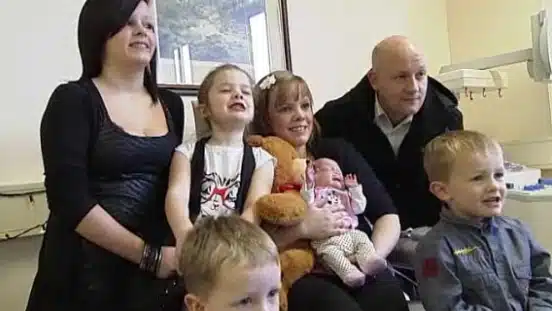 Celly Reid's "miracle baby" is on the road to a full recovery after life saving heart surgery. Little Amy is the fourth child for Reid and her husband Angus of Macduff, Banffshire, Scotland.
Due to arrive on December 12th, Amy was delivered at 27 weeks on September 13 by emergency Caesarean after an infection of the placenta began to pass toxins to the baby.
Weighing a fragile 1lb 15oz Amy was taken to the neonatal unit at Aberdeen Maternity Hospital where she was hooked to an IV, ventilator and heart and blood pressure monitors.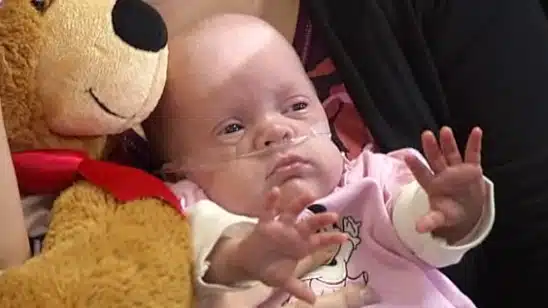 Having yet to even hold their newborn, the Reid's were given frightening news. The doctors had discovered that a valve in an artery leading from Amy's heart, which usually closes after the baby takes their first breath, had remained open. The faulty valve was causing blood to spill into the baby's lungs and needed to be corrected.
After attempts to correct the problem with medication failed, Amy was flown to Glasgow for surgery at Yorkhill Hospital.
"We knew this was serious," Reid said. "I asked the doctor if she was going to die and he said it was a possibility."
At only five weeks old the surgery, to stitch the valve closed, was both rare and harrowing; but it was a success.
"We were told she was doing well and when she came back to Aberdeen I could see the surgery had worked wonders," said Reid. "That was when she was finally well enough for me to be allowed to pick her up and give Amy her first cuddle after a whole five weeks."
Amy is nearly four months old now and weighs a much healthier 6lbs 18oz. Her relieved parents couldn't be happier. "I never thought I'd be so happy to be woken up in the middle of the night for feeds. But after being terrified I might lose her, it's even more special being a mom to her now." – Jen R, staff writer.
---