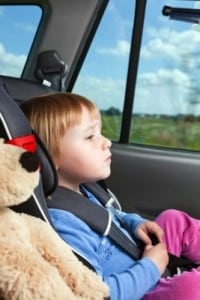 Already 18 children have died this year due to being left inside hot vehicles, one of the highest numbers since data began being tracked. Safety groups are now urging parents to remember how dangerous a car can be.
Though the year is only half over, it is already looking to be one of the worst years for infant and toddler deaths. Since data on these types of deaths began being tracked in the 1990s, this year has had the highest death rate for the first half of a year. Unless more parents begin to take warning, the death rates may continue to climb.
Of the 18 deaths so far, 8 of them have been reported since June 13. The sudden rise has safety groups and government officials worried. The highway safety advisory has already issued a warning for parents to be more cautious about their children and unattended cars.
"These really are good parents who love these kids who make a mistake that turns out to be fatal," said David Strickland, the administrator of the National Highway Traffic Safety Administration.
Typically 37 children die each year due to being in hot vehicles. In 2009, there were 17 deaths reported from January through June. With one week left in June, the death rates have already topped last year's numbers. Even in the record year of 2005, when 47 children died, only 12 of the deaths had occurred by June.
Since 1998, there have been 463 child deaths from heat exhaustion of being trapped inside a vehicle. Safety groups such as Kids and Cars and Safe Kids USA, suggest these basic tips for preventing child deaths:
Always check the car before getting out.
Use a reminder to remember to check carseats. Placing important items, such as a cell phone, in the back will make sure you look n the backseat.
Keep the car locked to prevent toddlers from getting in unnoticed.
Lower a window slightly to help keep temperatures lower, and to make it easier to hear a child trapped inside.
The temperature inside a car can be significantly higher than the temperatures outside. When heat levels are in the 90s F (30s C) outside, it can be as much as 140 degrees F (60 C) inside a parked car.
Related Artcles:
---
[ad]