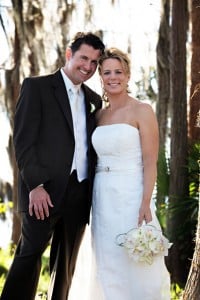 At just 27 weeks into her pregnancy, Annika Sorenstam has given birth to a little boy.
The pro golfer posted the news on LPGA Official Facebook Page explaining that she suffered from placenta abruption and had contractions and dilation saying,

First of all, Mike, Ava, Will and I want to thank everyone for your thoughts, prayers, and concern. Needless to say this whole process was a big surprise at this stage in my pregnancy. Evidently, I developed what is called a "Placenta Abruption," in which the Placenta starts to break away from the wall, which can obviously be dangerous for the baby. As that happened I started to have contractions and dilation, which we tried to slow.  However, once we got to a certain point, we decided to move forward with a C-section delivery. The process went well and William Nicholas McGee was born 2.12 lbs and 15 inches long on 3/21/2011 at 6:33 P.M.

Will is in great hands with the incredible professionals in the NICU at Winnie Palmer Hospital. He has already shown his fighting spirit, but like any "Preemie" the next two months are crucial. He will need a strong will with the challenges ahead, which is why we decided to call him Will. We would like to thank everyone at Winnie for their excellent care. We are optimistic that everything will be fine.

As for me, all things considered I feel great. I am recovering nicely and hope to be home in a day or two. Thanks again for the support.
We wish the family the best and look forward to hearing how Will is doing in the coming weeks.
---