It's a very rare condition called ectopia cordis. When doctors first saw the scan they warned Naomi Findlay and Dean Wilkins, a couple from Bullwell Nottinghampshire, that their baby had almost no chance of survival. Naomi was 9 weeks pregnant and her scan showed her baby's heart and part of the stomach were growing outside of the body. They were told that the wisest choice was to terminate the pregnancy and were offered counseling to help them deal with their grief.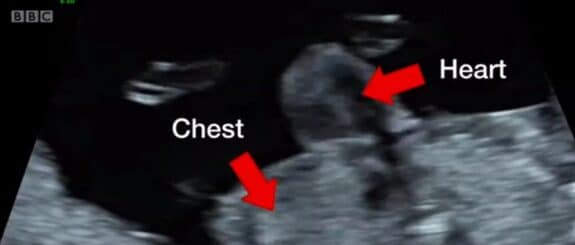 Against all odds, the couple decided to proceed with the pregnancy. Naomi says that "termination was not an option for me. If it happens naturally, then so be it."
The due date was Christmas, but because of the rare condition the baby was delivered prematurely via caesarean on November 22 at Glenfield Hospital in Leicester. Doctors had warned that the first 10 minutes following delivery were critical. 43-year-old Dean remembers holding his breath waiting for his daughter to take her first breath. "When she cried, we cried. Twenty minutes went by and she was still shouting her head off. It made us joyful and tearful."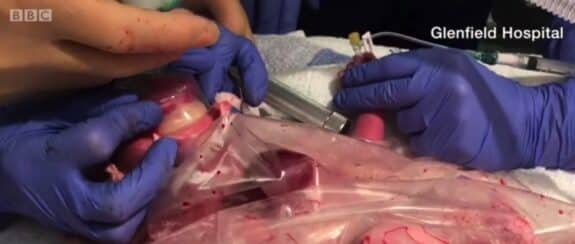 Baby Vanellope was attended by more than 50 staff assembled to carry out operations needed to put her heart into her chest. In a series of procedures lines were inserted into the umbilical cord to deliver medications and fluids to support her heart. The chest was gradually opened up to create space. After a week, the baby's chest was opened further.
Normally there is an indent on the left lung providing space for the heart, but tiny Vanellope didn't have that. Slowly over several weeks her heart naturally made its way into the space surgeons created thanks to gravity. A final operation took skin from under her arms, moving it to help join the middle of her body. Doctors created a mesh to protect the heart placement since the baby had no ribs or sternum. Now, as her organs fight for space inside her chest, the baby is attached to a ventilation machine to aid breathing.
Five to eight babies per million are born with ectopia cordis and serious congenital malformations. The chance for survival is less than 10% for these infants.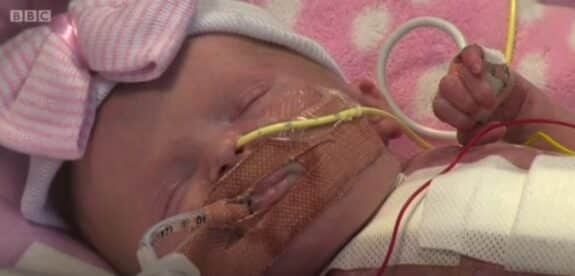 Little Vanellope has already proven to be a fighter, and that's where her name comes in. Naomi and Dean named their daughter after a character in the Disney film Wreck it Ralph. Naomi says that character is strong and stubborn, and in the end turns into a princess.