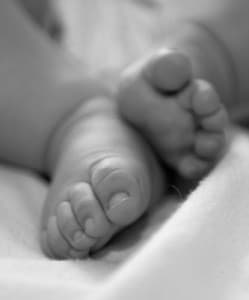 Carolyn Murdoch's 35th week of pregnancy started out as a mini vacation with some of her girlfriends and her daughter, Annabelle. They were headed off to the Horseshoe Resort in Barrie. But early Sunday morning brought the realization that the stomach cramps she'd been having were actually contractions, and they were coming closer and closer together. Then, at 2:30 in the morning, her water broke. There was no denying it now; her son planned to make an early entry into the world.
Carolyn had originally decided on a home birth, but her location negated the earlier plan. So, after calling her husband and midwife, a new plan was made. Kam Agarwal, one of Carolyn's friends at the resort, would drive Carolyn and Annabelle to a hospital in Brampton. But about 40 minutes into the drive, the impatient little guy decided he wasn't willing to wait.
"I could sense that her breathing was getting tense, and then she said to pull over and call an ambulance," Kam said.  "As soon as I called the ambulance, she was holding the baby between her legs. As we were driving, I just remember thinking, 'I don't want to be one of those people on the side of the road, delivering a baby with a camera crew,' and yet the next thing I know I'm delivering a baby on the side of the road with a camera crew."
Kam called the experience as "surreal." Carolyn cradled the little boy in her arms, the umbilical cord still attached, and right next to them sat Annabelle, her eyes also filled with tears. But as shocked or panicked as Kam may have been in that moment, she managed to stay calm.
"My only concern was getting her to a hospital as safely and as quickly as possible…You are worried, but if you panic, then she's going to panic…You have to hope everything works out, and thankfully, in this situation, everything did work out."
Shortly after the baby's birth, Carolyn's husband, Richard, arrived. He'd been waiting at the intended hospital of destination for his wife to arrive. After hearing that she wasn't going to make it, he headed out to the highway to be with her.
"She's the strongest woman I know," Richard said. "I don't think a lot of women could have done that, given birth, all on their own."
Shortly after, mother and baby were transported to Humber Ridge Regional Hospital. And all the while, television cameras followed the journey.
The little boy, who may be named Emmett, Charles or Arthur, ended up weighing in at 6 pounds, 15 ounces, and is reportedly doing well. Carolyn, also said to be doing well, says she can't wait to tell him this story.
"I'm going to tell him that mama's a big hero," Carolyn said with a laugh. "She gave birth to you in the back seat of a car and your sister, who was two at the time, was the midwife."
And despite all the craziness, changes of plans and camera crews, Carolyn says that if she had it all to do over again, she wouldn't change a thing.
"You have to live your life," she said. "(Pregnancy) is just so unpredictable. You can't live your life under quarantine because of the just-in-case. I could have spent six weeks at home waiting for the baby and just went crazy."
Related Articles:
---
[ad]