Between daily air strikes that batter the capital city Aleppo of Syria, there is news of life and survival after a two-month-old baby boy was rescued from the rubble of a broken wall. The infant was trapped under the debris for more than 16 hours until he was rescued.
Last night Mahmud Ibildi a two month old baby was caught in the fight in the city when he was entombed in the rubble of a building that fell due to air strikes. Civil Defence workers tried for hours to rescue the infant and when they finally managed to remove him from under the piles of bricks and stones, they were kissing him with delight for being alive.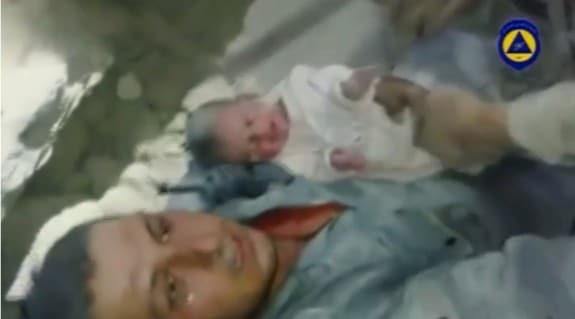 A video that was shared on social media that captures the moments when the workers tried to rescue the baby from the rubble.
The clip shows a man's hand pulling stones and broken pieces of the wall as a baby's tireless wail are constantly heard. Moments later, the man tries to hold on to the baby's outfit and pull him. The baby's bloodied and dusty head is visible and another man covers them with his hands to ensure that the head does not hit any of the loose or sharp rubble.
Completely covered in white and grey dust, he is soon extracted. He is still crying but in safe hands of the men who rescued him.
A smiling man then clutches the rescued child in his arms while his colleagues off-camera cry: 'God is great!'
There are cries of 'it's a miracle' as a small head is seen emerging from debris after 16 hours of non-stop efforts to pull him out.
'After 16 hours working under difficult conditions, the civil defence in Ansari (in southern Aleppo) was able to rescue a baby barely two months old as well as her mother who was injured,' a commentary to the video said.
The child's mom was also rescued by the workers.
The rescue operation was carried out in the northern part of the city that has been constantly battling air strikes. Rebels fire mortar bombs at government-controlled western sectors of Aleppo, which was Syria's commercial hub before its civil war erupted in 2011.
It is believed that the video was put up online by the rescue team which called itself 'Aleppo Civil Defence'.