When the baby decides to come, time and place don't matter. That is what new mom Caroline Meech realized when she gave birth to a beautiful and healthy baby girl just inside the door of a Hospital.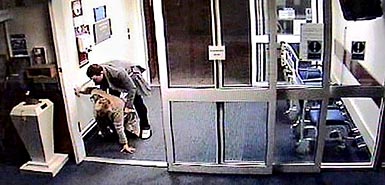 When 32 year old IBM employee Caroline and her husband Mike raced to the Royal Hampshire County Hospital in Winchester for the birth of their third child, Caroline knew that hers would be a fast delivery.
But as she stumbled into the foyer, and could not move further, so the thought of a wheel chair or a delivery room totally vanished. Soon she was busy pushing as midwives rushed to her aid and in ten minutes little Alice Harriet weighing a healthy 8lbs and 3 oz was born.
What made the situation even more comical was every time she gave a push, the automatic doors of the hospital would slide open.
The new mom said, "I knew the baby was coming so I told Mike to take me to hospital. My waters broke in Hursley and I saw her head coming down, so I said 'drive faster!' After that they just had time to park the car, press the buzzer and zoom in through the double door.
Finding it 'all very exciting' Caroline adds she held to the support of her husband and the superb midwives. "Mike was brilliant. I was biting his thumb. He didn't seem to mind. I couldn't have done it without him." – Atula, Staff Writer
Related Articles:
---
[ad]