No one expects to receive a cancer diagnosis, especially not a pregnant mother, about to give birth to a brand new life. But that is exactly what happened to Jenny Purvis when she went in to her doctor's for a routine prenatal visit during her 27th week of pregnancy. That checkup ended up saving Jenny's life.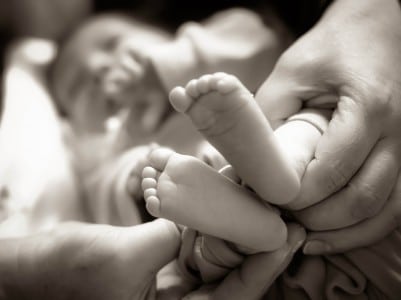 Jenny and Erin Purvis expected to meet their daughter in September, but during the early June checkup, Jenny was admitted to East Georgia Regional Medical Center because of high blood pressure. Unable to control her blood pressure, doctors transferred her over to Memorial University Medical Center where, under very close observation, doctors were able to get her blood pressure under control. Unfortunately, an ultrasound would soon reveal that blood flow to the placenta had stopped.
Jenny would need an emergency cesarean.
"She was beautiful, but little," Jenny told Statesboro Herald. "It was scary. But she was already crying, which was a good thing."
With her baby girl now safe and sound, it would seem that Jenny's troubles were over, but the cesarean would reveal yet another issue: Jenny had ovarian cancer.
Doctors had been monitoring cysts on her ovaries during the pregnancy, but they were believed to have been getting smaller during the pregnancy. The doctors who delivered Jenny's daughter, Mary Ella "Mae" Purvis, would find exactly the opposite to be true; two large tumors and most of her ovaries would be removed during the delivery.
"I guess I was pretty naïve," Jenny said about her oncologist appointment four weeks after the delivery. "The doctor came in and said it was ovarian cancer. I didn't think about a 29-year-old getting ovarian cancer."
The next several weeks would be a whirlwind of emotions and a slew of treatments. Not only was her daughter, baby Mae, still in the NICU unit, Jenny would have to undergo six rounds of chemotherapy. Thankfully, Mae didn't have any severe complications, and Jenny was able to stay nearby at the Ronald McDonald House during Mae's stay in NICU.
"Mae didn't have any major problems or complications, but she was just so small. She was getting bigger each day and had some apnea spells because she was still learning to breathe," Jenny said. "I don't know what we would have done without [the Ronald McDonald House]. I could walk over and see her anytime I wanted."
Now, Mae is doing exceptionally well – so well that she's been home from the hospital for a couple of months already. And she's already tipping the scales at ten pounds. Jenny is doing well, too, considering all that her body has been through the past few months. She still has two more chemotherapy sessions ahead of her and a hysterectomy that will take place once her body has had a chance to recover from the chemo treatments, but once she finishes, she hopes to go back to her teaching position toward the beginning of next year.
"It's been a journey. We feel so fortunate in so many ways, despite the circumstances. It's definitely changed me. I don't sweat the little stuff anymore. We don't take anything for granted. We cherish being home now – we were away from home for so long," Jenny said. "This is not how we saw our first pregnancy going, but it's definitely brought us all closer. We're just counting our blessings. I feel blessed that I have my beautiful baby – our little miracle."
Even Mae seems to know what her mother knows – had that delivery not been necessary because of the complications of her pregnancy, Jenny's outcome could have turned out very differently.
"We call her Miracle Mae. She came to save her Mama," Jenny said.  "Whenever we call her [that], she just grins."
Related Articles:
---
[ad]