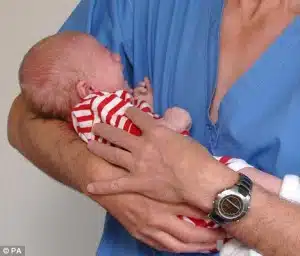 After the trauma of two miscarriages, an ectopic pregnancy and 13 failed IVF attempts, a UK mom finally has her miracle baby after doctors devised a way of counting the chromosomes in eggs, allowing them to pick only the best for fertility treatment.
The baby, identified only as Oliver, has become the first in the world to be born using an IVF technique that is said to more than double the chances of pregnancy.
The technique, known as array comparative genomic hybridisation, involves plucking a sample of DNA from just below the surface of the egg and putting it through a series of tests that allow the chromosomes to be counted.
Healthy eggs should have 23 chromosomes but many have more or less than this, greatly cutting the chances of pregnancy and raising the risk of miscarriage and of having a child with a condition such as Down's syndrome.
Up to three-quarters of miscarriages are thought to be due to embryos having too many or too chromosomes, with eggs from older women particularly likely to be problematic.

In trials, a more basic form of the technique doubled the pregnancy rate from 25 per cent to 50 per cent.

The latest version, pioneered at Care's Nottingham clinic, removes the potentially risky step of freezing and thawing the eggs or embryos and so could boast even better results.

Simon Fishel, of the Care group of fertility clinics, said: 'I really don't want to raise hopes unnecessarily but I do believe that because chromosomal abnormalities are so vast in cases of IVF failure that this technique will produce higher live birth rates.

'I am hoping it will double, or even more than double, the chances in most groups of patients.'

Optimising the chances of pregnancy would also allow doctors to reduce the number of eggs they implant in a woman at one time, cutting the odds of risky twin and triplet pregnancies.
In the case of Oliver, of eight eggs tested from the mother only two were found to be chromosomally normal. One of these produced the embryo that became Oliver.
SOURCE
---