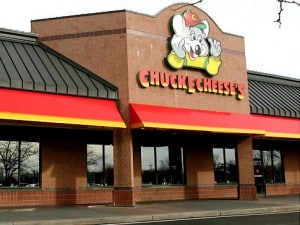 Merely three days after a three year old was left behind at popular Chuck E Cheese restaurants, another child spend a scary birthday night as her parents forgot her at the playground/pizza chain on Thursday.
Azana Jackson turned five on 8th March and to celebrate her birthday, she visited Chuck E Cheese with her parents and nine siblings. But while her family left, Azana continued to play at the restaurant until about 10.30 pm when the staff noticed her alone.
The police were contacted but Azana could not give her mother's name or any other contact information. She was then taken into custody by Child Protection Services.
The shocking bit was that the parents did not realize that Azana was missing until the next morning! Her mother was getting the other 9 kids ready for school when she noticed that Azana was nowhere to be found.
The mother has been described as 'distressed and emotional' for leaving behind her daughter, but she may still face criminal charges. An investigation is currently in progress to find why it took so long for her to notice Azana's absence.
On 5th March it was the same restaurant chain that was in the news when three year old Harmony was left behind by her parents. They only found out about her absence when the girl's details were reported in the late night news.
While both cases might be purely human error, what is surprising is the time it took for both set of parents to realize that their child was missing, especially in Azana's case who was herself the birthday girl and was not noticed missing by her family for more than 9 hours.
Chuck E Cheese follows a policy to stamp adults and children when they enter so as to keep them from getting lost at the huge complex. But to lose a child in public places is one thing and to forget and not realize that they are missing is a completely different scenario.
ABCNews also reports that there have been five incidents of such kinds in the past few months. While restaurants may come out with new policies to avoid such cases again, it is parents really who need to reaffirm their lessons of responsible parenting.
Related Articles:
---