New for Spring, Bugaboo has  'upgraded the classic' with the brand new Bugaboo Cameleon³ Classic+ Collection.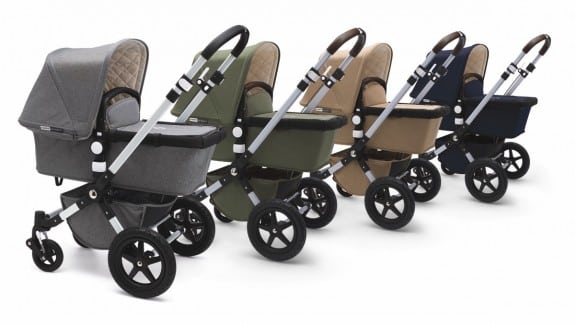 Originally inspired by 2001's Bugaboo Frog,  the Cameleon³ Classic+ Collection features an off-white micro-fleece quilted interior lining on the extendable sun canopy, carrycot, mattress and apron.

The new Classic+ Collection strollers will also come with a leather-look handlebar and carrycot handle, in brown for the Navy Blue, Dark Khaki and Sand; and in black for the Grey Mélange.

As the name suggests, the Cameleon³ can easily change to conform to your lifestyle.  Perfect for kids from birth to 4 years(or about 38lbs), it is car seat compatible, has a reversible seat and the wheels can be set 3 different ways to tackle the terrain your are strolling over.
Bugaboo is one of our favorite gear companies because the are constantly working to create a better product.  Their designer collaborations are legendary – as are the luxury finishes on their buggys.
Look for the Bugaboo Cameleon³ Classic+ Collection will be available from 1 March 2016.