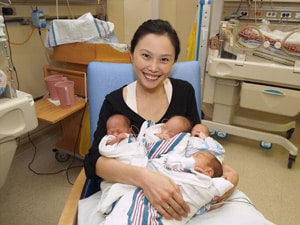 A Redwood City, CA couple looking to just have one baby is now prepping to bring home 4!
After naturally conceived, on the first try, mom Samantha Weng was told something different every time she went for an ultrasound.   At first, it was thought that they would be having twins, then triplets and finally quadruplets!
"I was shocked, like speechless," said Weng. "And I cried."
Doctors then asked the couple to reduce the pregnancy to improve chances of a success, but they refused.
"Some power up there decided you guys need four babies, and put four in there," Dad Wayne said. "So we just said 'OK, we'll take it a day at a time, a step at a time.' "
Samantha's pregnancy wasn't without it's challenges. At about 18 weeks of pregnancy, she was put on bed rest because her cervix was starting to dilate and then moved to the hospital for observation at 23 weeks.
On October 21st, 2010 the babies were born by cesarean at 26 weeks gestation, each weighing less than two pounds. Now, all of the girls are doing well, but progressing at different rates. Isabelle and Natalie still have feeding tubes, while Emma, who now weighs about 5.3 pounds, is almost ready to go home.
The couple knows for sure that two of the babies, Audrey and Emma are identical because they shared a placenta. It's not yet known whether Isabelle and Natalie are also identical, but if they are, the odds of four identical siblings are one in 8 million.
Wayne says the nursery at home is set up and ready for the girls when they are strong enough to be released from the hospital. Family members are ready to assist and additional help has also been hired.
Life will be busy for the Weng's but they don't mind. They call their babies a blessing and aren't ruling out another try for more!
---
[ad]