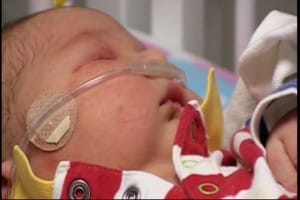 A California baby caused quite a stir at a Salinas hospital when he arrived weighing a staggering 14 pounds, 3.6 ounces.
Matthew Anthony Maldanado was born by c-section last Monday at 6:19 a.m. after his mom, Emily, endured two DAYS of labour. And while doctors told dad Jose to expect a big baby, even they were surprised at the baby's size. He recalled Matthew's arrival saying,
"They took him out and the doctor started saying damn, so they put him on the scale, 14 pounds, 3.6 ounces."
Natividad Medical Center's Dr. Roberta Bruni said of the child's birth weight,
"There was an absolutely incredible number so I thought they'd transposed and then I came in here and it wasn't a transposition."
Staff in the neo-natal intensive care unit had ever seen a baby this big before.  In fact doctors think he may be the biggest baby born in the state of California!
Related Articles:
---