About this time last year, a Mississippi girl born with HIV made national headlines. According to physicians treating the child, high doses of an antiretroviral cocktail had been administered to the girl shortly after birth. She continued treatment for the next 15 months, but then dropped off the medical radar. Some eight months later, she resurfaced and, despite the fact that she'd missed out on treatment during that period, no detectable traces of the virus were found in her system.
Then, earlier this month, another baby born with HIV received aggressive treatment just four hours after birth. After a variety of tests were conducted multiple times, the L.A. born child showed no signs of the virus in her system.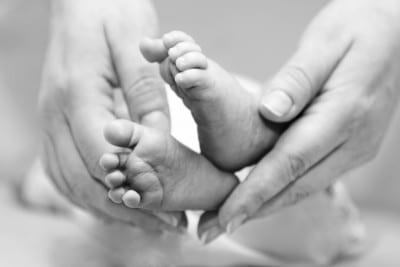 Canadian scientists want to know more about these cases, and others like them. And, according to Jason Brophy, the co-principal investigator and researcher at the CHEO Research Institute in Ottawa, Canada – the data needed to conduct a study is already available.
"We've been doing basically what they did in Mississippi here in Canada for some time," Brophy told CTV News.
In fact, Brophy and colleagues have already looked at a review of about 200 cases of Canadian children that were treated shortly after birth for HIV. Among them, at least 5 had begun treatment within 24 hours after birth, and have continued treatment since. According to Brophy, these children are showing "as little HIV virus in their bodies" as the most recent case from Los Angeles.
Results like these can be considered "functional cures." The term, coined by American doctors, means that the virus levels are so low, they won't trigger an active infection. The child may even be lucky enough to go into complete remission from HIV, which is what it almost appears the Mississippi baby may have done.
"The key question in this scenario is, is there something about starting treatment very, very early, within the first day of life, is there something about that which can lead to a situation where we can't detect the virus later on after stopping the treatment?" Dr. Ari Bitnun, the study's co-principal investigator and a pediatric AIDS specialist at the Hospital for Sick Children in Toronto, told CTV News.
What is unique about the Mississippi case is that, unlike many of the other cases, that child stopped treatment and still did not have a flare-up of the virus in her system. This extremely rare situation gives a lot of hope to the future of HIV infected children.
"It's very exciting," Brophy said. "This is what everyone has wanted for a long time – maybe a cure for HIV would be possible in the future."
But the term 'cure' should not be taken lightly when it comes to HIV. There are still many unanswered questions, particularly when you look long-term. Will the virus flare up again? Will there be ill effects later on down the road from taking such high doses of the medication early on in life? No one really knows, and until we do, we should cautious when approaching the possibility of stopping treatment medications.
"It isn't something that you do lightly because the virus can rebound," Bitnun said, adding that the talk of a "cure" is still a bit premature at this point.

"We need to really understand what is happening in these children, how the virus is controlled, where the virus remains in the body," Hugo Soudeyns, a microbiologist at Montreal's Sainte-Justine University Hospital Research Center, and project lead on the study, told CTV News. "These are all very serious considerations that need to be taken into account before treatment interruption is being considered."
It should also be noted that transmission from mother to baby can easily be prevented with medication during pregnancy. Of course, this means that the mother has to either be aware she has HIV/AIDS, or she has to discover this information early on in pregnancy. This can be determined through a simple blood test, but in some countries, the test is optional.
Related Articles:
---
[ad]