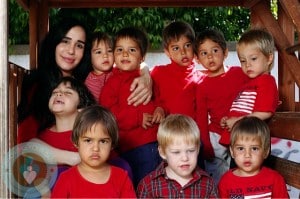 Octomom, Nadya Suleman is back in the news after reports have surfaced that her 14 children are living in filthy conditions.
The accusations, which were brought forward by Nadya's hairdresser contending that the children appear malnourished and unbathed.
The complainant told officers the children are living in horrendous conditions and are being grossly neglected. She also revealed that Nadya locked her kids in the bedroom by propping a chair against the door so they couldn't get out in order for her to get her hair done.
When CPS arrived they found that she has bad plumbing with one only working toilet and some of the children are using portable training toilets in the backyard.
Images obtained by TMZ show the the children's bedroom, with 2 cribs and a mattress. Some of the kids, it is claimed, are sleeping on the floor.
Stephanie, the hairdresser tells TMZ, "The kids are in desperate need of help, and I tried to help and she's not open to anyone helping her." She says the boys are wearing girl's clothes, they are neglected and Nadya is just incapable of caring for them.
Child welfare authorities visited the home for an hour-and-a-half and determined the children were not in danger but confirmed there will be a follow-up visit.
Recent pictures taken inside the 4 bedroom house show some the mess including extensive graffiti, with what appears to be spray paint, on the walls done by her kids.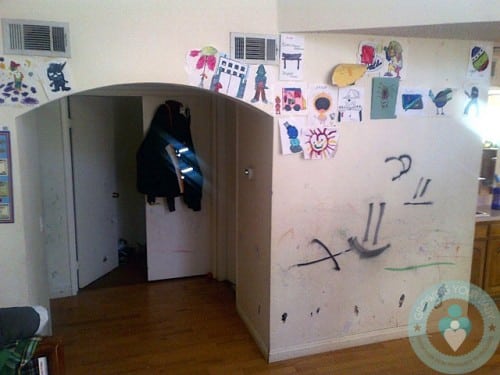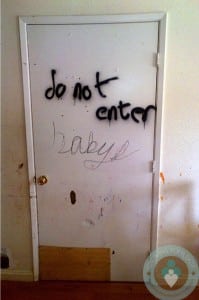 In a recent interview Octomom admitted that "my house is a tip, my older kids have destroyed it. I can't wait to move".
One source who has been inside the home in the past few days claims the damage left could cost up to $50,000 to put right. He said:
"There are holes in all the walls, large holes in all the doors, crayon and marker drawings all over the interior. "
Just hours after the complaint a cleaning crew of 4 arrived at the house to give it a work over. What is odd is that Dr. Drew gifted the single mom a year's worth of cleaning services last November that also includes a year of child care services.
They reportedly visit regularly but are, it seems, no match for 14 kids.
What is even more shocking is that, even thought she is on Government assistance, she reportedly paid $520 to have her hair done!
Clearly, Nadya is WAY over her head with her huge crew of kids and I'm not sure that it will be easy to turn the situation as the older kids, some of which have special needs, have had behavioral issues since before the octuplets arrived. Just after she had the babies her mom did a media interview showing the state that her house was in while Nadya and the kids lived with her and it was strikingly similar to what has been photographed this week.
When news crews visited the home they found it in ruins – all done in a 2 month period, while Angela Suleman offered to watch the kids so that Nadya could go on bedrest before delivering the Octuplets.
In the living room, clothing, books, toys and papers are scattered everywhere. Doorways are scratched, the walls are covered with crayon and there's Silly String on the ceiling. The sofa is torn and full of holes. The bedrooms, bathrooms, yard and garage are in equally disastrous shape.
At the time, Angela told Life & Style Magazine that it wasn't the kid's fault they were so destructive.
"There isn't much discipline, unfortunately," Angela says. "Half the time, she didn't know what they were doing." When Nadya finally moved out, she left the home in tatters for her mother to deal with.
I personally think she needs to get her priorities straight and focus on her family. She is NOT a celebrity so she needs to stop acting like one and take her money to IKEA and buy some dressers and organizers for her kid's belongings. While she's there she also needs to pick up a roll of drawing paper and a table so her kids have a place to be creative.
{PACIFIC COAST NEWS}
---
[ad]