Travelling with kids is stressful.  Their schedule can go out of whack, they can get uncomfortable or just irritated by all of the unpredictableness of a day of travel.  I've been that mom with the screaming baby.  I've been on a flight with a screaming baby.  Both are not fun.  No parent wants their child to disrupt a whole plane of travellers, but sometimes it's just not possible to calm a little one down once they get going.
This was apparently the case for a mom who was flying with her baby from Chongqing to Hong Kong.  SCMP reports that after the plane hit an altitude of 7,500ft two women became angry when a baby starting crying in the row behind them. Their way of retaliating? Recline their seats back as far as possible, which is extra awesome when you have a crying baby on your lap.  This didn't go over well with the other passengers and a brawl ensued.
One picture of the fight shows one woman being dragged backward by her hair over a seat. The crew had to separate two of the passengers and the captain threatened to turn the plane around.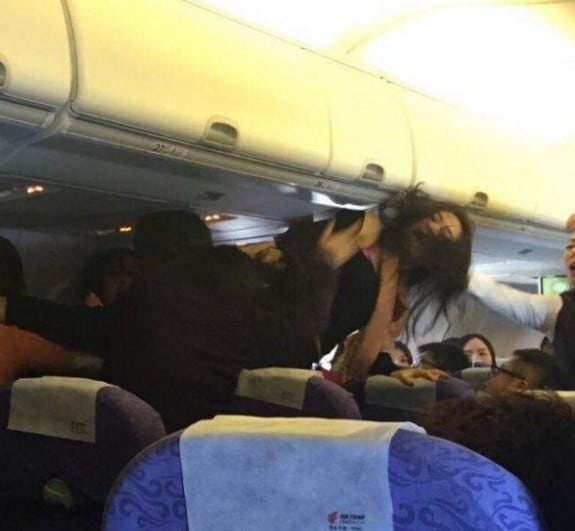 When the aircraft landed Hong Kong police immediately intervened to handle the dispute.
The event marks the third issue in just a week with passengers overseas.  The Shanghist reports that "On December 12, an Air Asia flight from Bangkok to Nanjing was forced to turn back after a woman poured a boiling cup of instant noodles on a flight attendant and her companion threatened to blow up the plane. Days before that, a passenger deployed the emergency slide on a plane after it landed at the Sanya Phoenix International Airport because he wanted to speed up the disembarking process. "
---
[ad]