A baby girl is in stable condition at a hospital in Fuzhou, China, after her 24-year-old mother attempted to mail her – wrapped in plastic bags – to an orphanage. As the investigation into the incident continues, the mother is in custody for suspected child abandonment.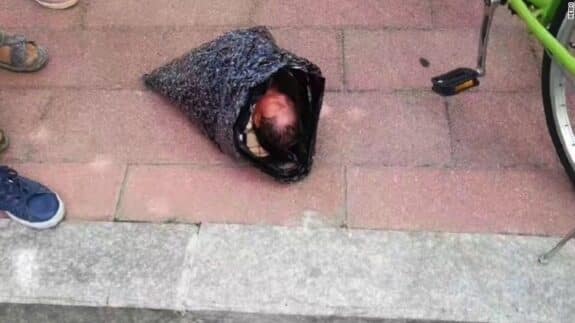 Local media reported that the mother, surnamed Luo, placed her child inside several black plastic bags and refused to let the courier inspect the contents of her package when he picked it up. That courier became suspicious when he noticed movement and noises coming from inside the package. He opened it and was shocked to discover a live baby girl.
In a cell phone video that has gone viral, nearby residents are seen caring for the infant as police officers and hospital staff arrive on the scene. One man is shown dipping a cotton swab in bottled water and wiping the baby's lips to keep her hydrated. Local temperatures that day had soared to a scorching 98.6 degrees.
An official from Jin'an District Hospital reports that the baby's life is not in danger. He also told CNN that police have identified the child's mother, who said that she would take the baby back home.
Many Chinese internet users who viewed the viral video are outraged at that prospect and expressed the sentiment that people who do this "don't deserve to be parents and the state should deprive them of that right."
Child abandonment is a societal problem in China, where the country's strict family planning policies and traditional preference for boys has too often made baby girls vulnerable to abandonment, especially in rural areas of the country.
There are about 460,000 orphans in China – a figure provided through statistics from the Ministry of Civil Affairs. In 2014 a ministry official told CNN that there was a ratio of just one social worker for every ten abandoned children. Many of these children suffer from some sort of disability.
---