One Toronto dad is fighting the city after he was ordered to move or dismantle a $30,000 treehouse boat he built in his backyard for sons 8 and 10.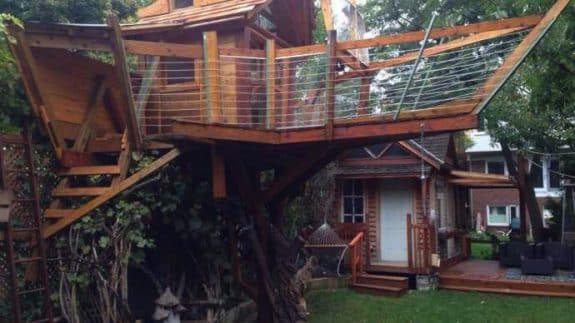 According to the City of Toronto, John Alpeza's neighbours complained that the playhouse was violating their privacy. Now, the dad will face charges under the city's bylaws if he doesn't take the structure down.
"I built this three years ago," Alpeza told CTV News on Wednesday. "The roof was on and so were the walls. Nobody complained for a whole year. Only after I changed the walls and the roof from pressure-treated to cedar and made it a lot nicer, a lot more expensive – that's when the complaint was filed."
The treehouse boat is every kid's dream! It has four different entrances, retractable windows, swing ropes, a hammock, an eating area and, a ship captain's wheel.
It is also tall enough to allow anyone playing on the top deck to easily look into nearby backyards.
But despite Alpeza owning a construction company, he built the structure without a permit. In recent weeks he has tried to secure the necessary permits in order to keep the ship sailing but is still waiting to hear back.
Next door neighbour, Marita Bagdonas, 90, told The National Post she "didn't complain about this." But, she said, she doesn't like the "big monster" of a tree house and said many neighbours in the area think it's an "eyesore."
In 2008 she went to court against the Alpeza's about their planned third storey expansion and won. Her reasoning? It would take away the sunshine.
Sadly for her the treehouse does the same thing. She told The Post it blocks the sun from her yard and stifled the growth of her roses.
On Wednesday, Toronto Mayor John Tory tweeted about the structure.
"Impressive play space and built with great intentions but safety and neighbourhood impacts have to be considered."
The Alpeza's are ready for a fight.  The treehouse, John says, is a key part of the family's self-made backyard oasis, which includes a matching shed, a sprawling deck and Muskoka chairs.
"I'm ready to do whatever it takes," he said, adding there doesn't appear to be any explicit rules about tree houses in the building code.
---
[ad]