Modern bag designer Ju-Ju-Be has been well known for their beautifully designed bags for many years. With something for parents of all lifestyles, their collection is popular with those who are looking for stylish, functional bags that will make outings easier.
Introduced this Spring, their new Be Classy bag offers parents a tote style bag that will keep everything where you need it.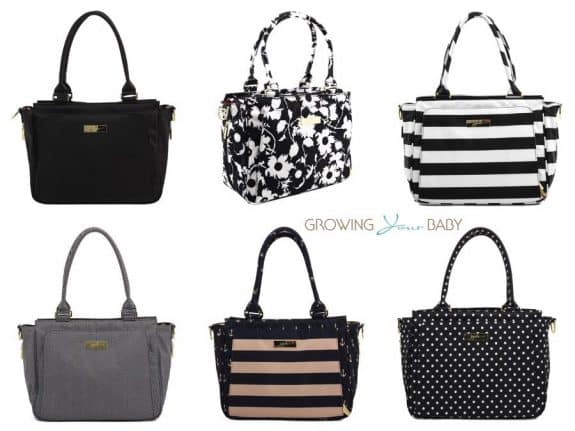 Now that my boys are 7 and 10, I no longer carry diapers, but I still find that I can't leave the house without snacks, wipes, sunscreen, my DSLR camera and a first aid kit. I could just buy a regular tote to carry all of my gear, but I've found in the past that many of them just have a couple pockets, which forces me to throw everything into the middle of the bag. It's not until you need to find your keys, sunglasses, or a bandaid that you realize this system doesn't work.
I love that Ju-Ju-Be has a pocket on the front of the Be Classy that is perfect for quick grab items. Appropriately called the mommy pocket, this space has a stretchy key fob so you don't lose your keys, a sunglasses case that doubles as a wipe if they get dirty, and 3 pockets for money and id.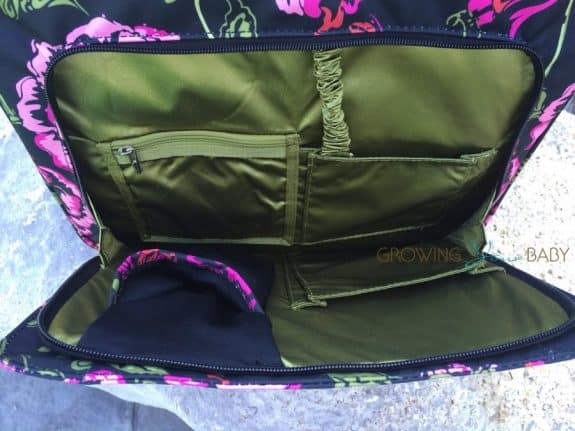 Around the other side of the bag is a second zip pocket that holds the diaper change pad, and a small spot to securely store your phone.
On each side, Ju-Ju-Be has also added interior insulated bottle pockets. The design of these pockets is great because the bottles are inset so they don't protrude from either side of the bag.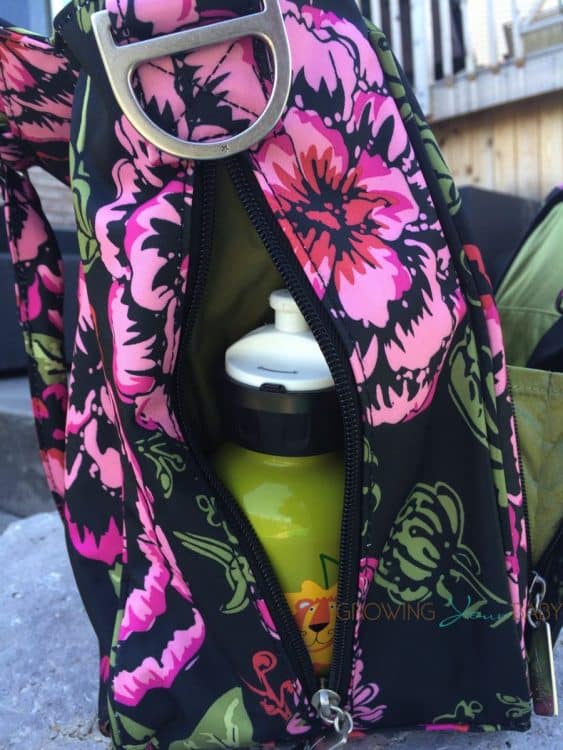 The inside of the bag is lined with the same light green satin fabric that Ju-Ju-Be uses on the mommy pocket and I love this because the contrasting color makes it easy to see what is in your bag.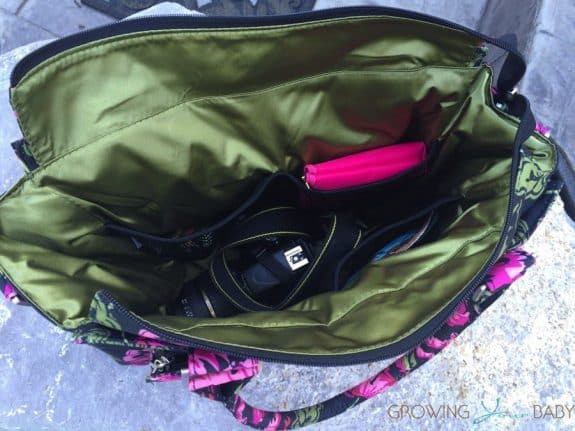 The main compartment comes with 3 mesh pockets and a 4th pocket that is covered.  I like this design because I can put my smaller items around the outside of the bag and then throw bigger pieces like my camera and wallet in the middle.
Ju-Ju-Be has also given the Be Classy brushed metal hardware that gives the pulls and clasps a more stylish look.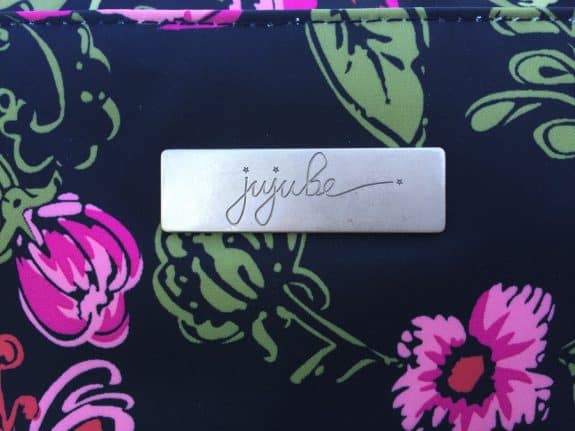 Parents can also choose to carry the bag over their should, messenger style or hang it over the handles of their stroller.
I love this bag because it goes from day to night and whether we are at the park, mall or out for dinner, I am constantly getting compliments from other women who pass by!
---
[ad]