Los Angeles Galaxy midfielder David Beckham was beaming with excitement on Saturday as he celebrated winning the 2012 MLS CUP with his sons and team.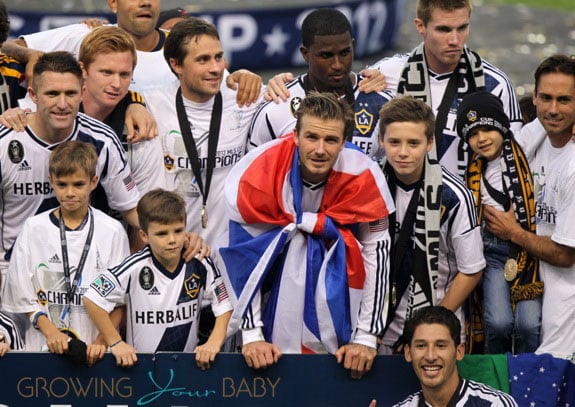 Always supporting their dad, Cruz, Romeo and Brooklyn wore matching #23 Jersey's and neon painted shoes.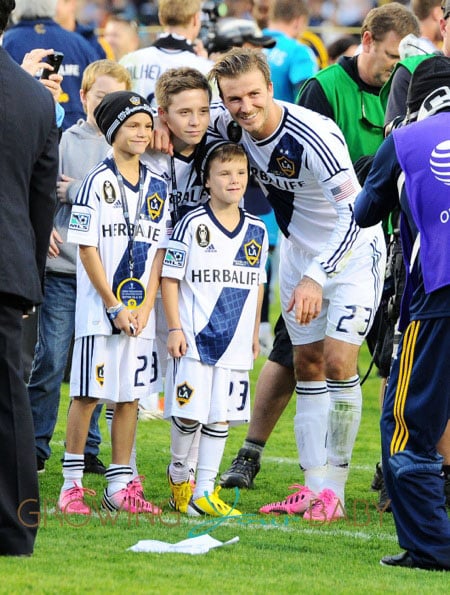 The win was bittersweet for the football player, who announced, a couple weeks ago on his facebook page, that this would be not be renewing his contract with the team.
In my time here I have seen the popularity of the game grow every year. I've been fortunate to win trophies, but more important to me has been the fantastic reception I've had from fans in L.A. and across the States. Soccer's potential has no limits in this wonderful country and I want to always be part of growing it. I don't see this as the end of my relationship with the league as my ambition is to be part of the ownership structure in the future
After the MLS Cup Win her posted,
Thank you all for your support. Incredible…So happy to win a second Championship in America and end my time there as a player on such a special note. I will never forget today, what a great feeling…
The family is reportedly moving back to London. Victoria, who travelled there on Saturday with daughter Harper, has been spotted looking at real estate over the last couple weeks.
---
{PACIFIC COAST NEWS}
---
[ad]