Tori Spelling and Dean McDermott with their children Stella and Liam were on hand this morning to help launch the new Polar Bear Plunge exhibit at the World Famous San Diego Zoo.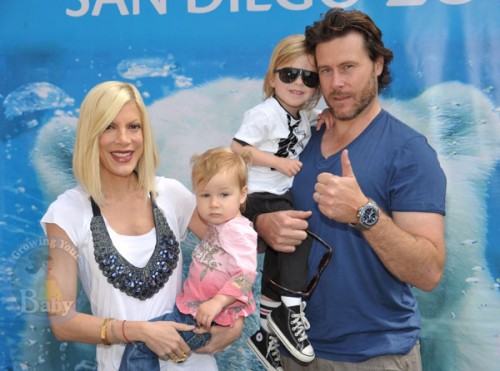 The zoo reopened its newly renovated Polar Bear Plunge exhibit to educate the public about the climate changes that are threatening this species' survival as well as our own.
Polar Bear Plunge is currently home to three grown polar bears: Chinook, a 15-year-old female who was found orphaned in Canada, and her nine-year-old brother and sister, Kalluk and Tatqiq, whose mother was shot in Alaska when they were cubs.

The renovated exhibit will feature new interactive and educational displays all aimed to teach visitors about the effects of global warming. The displays include a "measure up" area — with life-size statues of a 30-day-old cub, a one- to two-year-old juvenile and an adult male — a snow den, a research helicopter and a refrigerator packed with 140 pounds of seal meat, known at the zoo as dinner for one.
Also in attendance was Denise Richards with daughters Sam and Lola.
---
Related Articles:
{WIREIMAGE}
SOURCE
---
[ad]